(hit "refresh" to get the most recent version of this page; click on photos for larger images)
Fralinger's
Saltwater Taffy
Atlantic City, NJ
Shriver's Fudge & Saltwater Taffy
Ocean City, NJ
Fralinger's Saltwater Taffy opened on the Boardwalk in the 1880s. It has not been resolved which company invented saltwater taffy: Fralinger's or James (see below). Today, both businesses are really part of the same company although they continue to have separately branded stores. There are four Fralinger's locations: Cape May, Ocean City, and two in Atlantic City.

Shriver's Fudge & Saltwater Taffy is the oldest surviving business on the Boardwalk. It was founded in 1898 as a restaurant, ice cream and candy store. The building now houses the store and factory. Customers can watch the candy being made. For more, see these websites: 1 and 2. [map]
James Saltwater Taffy
Atlantic City, NJ
James Saltwater Taffy
Wildwood, NJ
James Saltwater Taffy was founded in the 1880s. Like Fralinger's and Shriver's, their stores sell all types of candies, nuts and gift items. There are four James locations: Wildwood, Stone Harbor, and two in Atlantic City. This barrel sign at the Wildwood location was removed in 2011 when the company discontinued its candy barrel packaging. The barrel is now at Fleming's Junkyard in Egg Harbor, NJ. For more, see these websites: 1 and 2.
Parkside Candy Company
Buffalo, NY
the original location
Buffalo, NY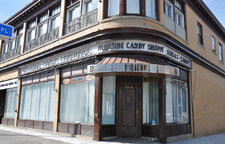 Parkside Candy Company opened its first location in 1918 (bottom photo). From the beginning, candies and chocolates were made on-site. This building housed a daycare center in recent years. I believe the building is vacant right now. Parkside's second location was built in 1927, giving the company a much larger candy-making plant and an ornate ice cream parlor. In addition to candy, this store serves ice cream, soup and sandwiches. These photos are from 2010. In 2016, it was announced that the building, both inside and out, would be restored. The signs on the exterior were replicated and installed in 2017. They are believed to be from the 1940s. [map]; [original location map]
Esther Price Candies
Dayton, OH

Esther Price Candies
Cincinnati, OH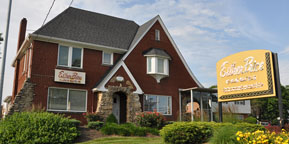 Esther Price Candies was founded in Dayton in 1926. It was a home-based business until 1952 when this first store was built in Dayton. The company now has about 87 locations in Ohio, Indiana, Kentucky, Tennessee, and Illinois. This Dayton store also doubles as the company's production plant. This photo is from 2009. By 2015, the neon was removed from the sign and the panels were repainted. The bulbs are still lit at night. [map]

This Cincinnati location opened in 1965. These photos are from 2012. By 2014, the neon signs had been replaced with new signs without neon. For more, see these websites: 1 and 2. [map]
RoadsideArchitecture.com

Copyright. All photos at this website are copyrighted and may only be used with my consent. This includes posting them at Facebook, Pinterest, blogs, other websites, personal use, etc.

Tips & Updates. If you have suggestions about places that I haven't covered, historical info, or updates about places/things that have been remodeled or removed, I'd love to hear from you: roadarch@outlook.com.