(hit "refresh" to get the most recent version of this page; click on photos for larger images)
Parkside Candy Company
Buffalo, NY
the original location
Buffalo, NY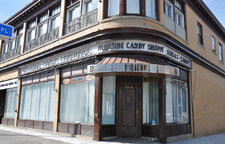 Parkside Candy Company opened its first location in 1918 (bottom photo). From the beginning, candies and chocolates were made on-site. This building housed a daycare center in recent years. I believe the building is vacant right now. Parkside's second location was built in 1927, giving the company a much larger candy-making plant and an ornate ice cream parlor. In addition to candy, this store serves ice cream, soup and sandwiches. These photos are from 2010. In 2016, it was announced that the building, both inside and out, would be restored. The signs on the exterior were replicated and installed in 2017. They are believed to be from the 1940s. [map]; [original location map]
Beerntsen's Confectionary
Manitowoc, WI
Beerntsen's Confectionary has been here since 1932. The company is mostly known for their chocolates but they have an old soda fountain here as well. The interior features the original dark wood booths and counters. There are other locations in Cedarburg, WI and Green Bay, WI. For more, see these websites: 1, 2, and 3. [map]
Reynolds
Candy Company
Wilmington, DE
Caruso's Candy Kitchen
Dowagiac, MI
Carmelcorn Shop
Easton, PA
The Reynolds Candy Company must have been a great shop. The building is now occupied by Cavanaugh's Restaurant. [map]

Caruso's Candy Kitchen opened in 1922. The building is from 1899 and the shop features a marble-countered soda fountain. They sell homemade ice cream, candies, and chocolates. [map]

The Carmelcorn Shop opened in 1931. The tiny shop has a wonderful old interior. It is located right on the main square downtown. [map]
Shane's Candies
Philadelphia, PA
2009:
2012:
Shane's Candies opened here in 1911. The interior and display windows are original. The candy is made on the second floor. In 2011, new owners repainted the exterior and interior, from green to blue. For more, see these websites: 1 and 2. [map]
Russo's Candies [gone]
Saugus, MA
Russo's Candies first shop was built in the 1920s in Malden, MA. This building was constructed in 1954. This photo directly above is from 2001. In 2004, the store moved to a shopping center and this building was demolished. For more, see this website.
Gene and Boots Candy
Perryopolis, PA
Gene and Boots Candy
Greensburg, PA
2001:
2012:
Gene and Boots started out as a popcorn and peanut stand in 1930. It was run by Gene Madigan and his friend "Boots". They soon added soft drinks and ice cream. When Boots went into the service, Gene's parents got involved and his father began making chocolate. Gene & Boots is still a family-run business and in addition to selling its own products, offers candies from all over the world. The Perryopolis shop opened in 1960. The Greensburg location has updated its sign but kept the plastic balls. In addition to these two locations, there are four others in the Pittsburgh area. For more, see this website. [Perryopolis map]; [Greensburg map]
Margie's Candies
Chicago, IL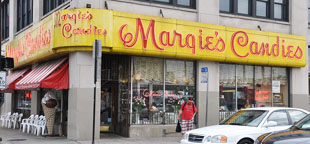 Margie's Candies is an ice cream parlor and candy shop. It opened in 1921. The sign was built in 1954. The store features hand-dipped candies, homemade ice cream, sandwiches as well as breakfast foods, and a collection of dolls and other memorabilia. The neon sign is lit at night. Margie's Candies opened a second location in 2006. For more, see this website. [map]
RoadsideArchitecture.com

Copyright. All photos at this website are copyrighted and may only be used with my consent. This includes posting them at Facebook, Pinterest, blogs, other websites, personal use, etc.

Tips & Updates. If you have suggestions about places that I haven't covered, historical info, or updates about places/things that have been remodeled or removed, I'd love to hear from you: roadarch@outlook.com.