(hit "refresh" to get the most recent version of this page; click on photos for larger images)
McCord Candies
Lafayette, IN
McCord Candies opened here in 1912 as Glatz Candies. The name was changed to McCord in the 1950s. The candies are still made on site. The also continue to offer soda fountain drinks and sandwiches. For more, see this website. [map]
Lagomarcino's was established here in 1908. It is a candy store and ice cream parlor. Lagomarcino's opened a second location in Davenport, IA in 1997. For more, see these websites: 1 and 2. [map]
Lammes Candies
Austin, TX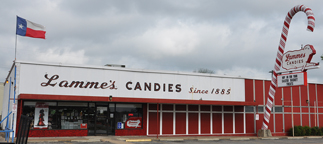 Lammes Candies was established in 1885 and now has nine locations. This location opened in 1957. It functions as a retail store and the company's manufacturing plant. For more, see these websites: 1, 2, 3, and 4. [map]
Donckers Candies & Gifts
Marquette, MI
Donckers Candies & Gifts was established in 1896. This store had opened by 1914. For more, see these websites: 1 and 2. [map]
Preston's Candy & Ice Cream
Burlingame, CA
Fralinger's
Saltwater Taffy
Atlantic City, NJ
Shriver's Fudge & Saltwater Taffy
Ocean City, NJ
Fralinger's Saltwater Taffy opened on the Boardwalk in the 1880s. It has not been resolved which company invented saltwater taffy: Fralinger's or James (see below). Today, both businesses are really part of the same company although they continue to have separately branded stores. There are four Fralinger's locations: Cape May, Ocean City, and two in Atlantic City. For more, see this website.

Shriver's Fudge & Saltwater Taffy is the oldest surviving business on the Boardwalk. It was founded in 1898 as a restaurant, ice cream and candy store. The building now houses the store and factory. Customers can watch the candy being made. For more, see these websites: 1 and 2. [map]
James Saltwater Taffy
Atlantic City, NJ
James Saltwater Taffy
Wildwood, NJ
James Saltwater Taffy was founded in the 1880s. Like Fralinger's and Shriver's, their stores sell all types of candies, nuts and gift items. There are four James locations: Wildwood, Stone Harbor, and two in Atlantic City. This barrel sign at the Wildwood location was removed in 2011 when the company discontinued its candy barrel packaging. The barrel is now at Fleming's Junkyard in Egg Harbor, NJ. For more, see these websites: 1 and 2.
Farr's Candy Co.
Idaho Falls, ID
The Farr's Candy Co. was established in 1911. The company moved to this location around 2011 and brought the sign along. The neon at the bottom of the sign alternates between "Candy" and "Ice Cream." They continue to produce candy and ice cream at the new factory location. The candy is sold at the factory, by mail order, or to wholesale customers. Farr Better Ice Cream in Ogden was owned by a relative. For more, see these websites: 1 and 2. [map]
See's Candies
Stockton, CA
2008:
2014:
See's Candies
San Francisco, CA
See's Candies
Corona del Mar, CA
See's Candies
Santa Clara, CA
See's Candies
Los Angeles, CA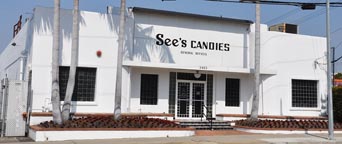 See's Candies
South San Francisco, CA
See's Candies
Tucson, AZ
See's Candies opened its first shop in Los Angeles in 1921. The company had 12 shops by the mid-1920s and expanded to San Francisco in 1936. There are now more than 200 shops worldwide with most of them located in California. Even the modern locations have similar, white-paneled buildings.

The Stockton location closed around 2009. Since at least 2011, the building housed Time Honored, a jewelry store. The store closed in 2020. [map]

The San Francisco location appears to be from the 1940s or 1950s. [map]

The Corona del Mar location opened in 1956. [map]

The Santa Clara location was probably built in the 1950s. [map]

This Los Angeles building houses a store and one of the company's two factories. [map]

The South San Francisco location houses the other See's Candies factory. It is also the company's headquarters. I believe it was built in the 1950s. For more, see these websites: 1 and 2. [map]

The Tucson location appears to be from the 1950s. I don't know of any other vintage See's locations outside of California. [map]
Fannie May Candies [gone]
Lansing, IL
Fannie May Candies
La Grange, IL
Fannie May Candies
Moline, IL
Fannie May Candies is a chocolate and candy store chain, founded in Chicago in 1920. By 1935, there were nearly four dozen shops in Illinois and nearby states. The chain later opened other stores in Indiana, Ohio, Michigan, and Wisconsin. This building in Lansing featured the chain's standard white porcelain enamel exterior with red and white awnings. The building was demolished around 2020.

The stores in Moline and La Grange appeared to be older than the one in Lansing was. These two storefronts were faced with vitrolite glass tiles. They are the only locations left that I know of that still have the glass tiles. The La Grange store is still open. However, around 2020, the tile was removed and plastic letters were installed on the new facade. The Moline location housed a jewelry and ceramics store when this photo was taken in 2012. Since then, more tiles are missing. [La Grange map]; [Moline map]

The only surviving older locations that I know of are in: Champaign, IL, Downers Grove, IL, Oak Lawn, IL, Oak Lawn, IL, Skokie, IL, and Michigan City, IN. If you know of others, I'd love to hear from you.
Esther Price Candies
Dayton, OH

Esther Price Candies
Cincinnati, OH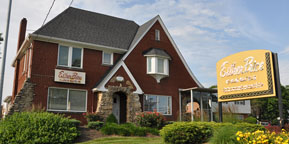 Esther Price Candies was founded in Dayton in 1926. It was a home-based business until 1952 when this first store was built in Dayton. The company now has about 87 locations in Ohio, Indiana, Kentucky, Tennessee, and Illinois. This Dayton store also doubles as the company's production plant. This photo is from 2009. By 2015, the neon was removed from the sign and the panels were repainted. The bulbs are still lit at night. [map]

This Cincinnati location opened in 1965. These photos are from 2012. By 2014, the neon signs had been replaced with new signs without neon. For more, see these websites: 1 and 2. [map]
Nichols Candies
Gloucester, MA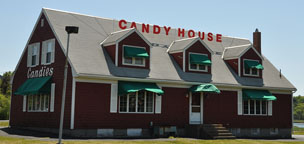 Nichols Candies was established in 1932. They moved to this location since 1954. For more, see this website. [map]
More Candy Shops:
Marini's Candies (Santa Cruz, CA)
Taffy Shop (Estes Park, CO)
Schimpff's Confectionery (Jeffersonville, IN)
Madison Fudge Factory (Madison, IN)
Furlong's Cottage Candies (Norwood, MA)
Orne's Candy Store (Boothbay Harbor, ME)
Parrot Confectionery (Helena, MT)
Bayard's Chocolates (Cinnaminson, NJ)
Oliver's Candies (Batavia, NY)
Steverís Candies (Rochester, NY)
Candyland (Lincoln City, OR)
Regennas Candy Shop (Lititz, PA)
Wilbur Chocolate & Candy Museum (Lititz, PA)
Callie's Candy Kitchen (Mountainhome, PA)
RoadsideArchitecture.com

Copyright. All photos at this website are copyrighted and may only be used with my consent. This includes posting them at Facebook, Pinterest, blogs, other websites, personal use, etc.

Tips & Updates. If you have suggestions about places that I haven't covered, historical info, or updates about places/things that have been remodeled or removed, I'd love to hear from you: roadarch@outlook.com.