(hit "refresh" to get the most recent version of this page; click on photos for larger images)
Pickle Barrel House
Grand Marais, MI
The Pickle Barrel House was built in 1926. It was constructed for William Donahey and his wife Mary Dickerson Donahey. William Donahey was the creator of the Teenie Weenie comic strip characters which were used in advertising for Teenie Weenie sweet pickles. Mary Dickerson Donahey wrote many children's books. The building functioned as a summer cottage for the Donaheys for ten years. In 1937, the building was moved into town where it was used as an information booth. The large barrel is two stories and about 16 feet tall. The smaller barrel was built as a kitchen that was connected to the larger structure by a covered hallway. From 2003-2005, the barrels were restored and turned into a museum (bottom photos above). For more, see these websites: 1, 2, and 3. [map]
Root Beer Barrel
Douglas, MI
The Root Beer Barrel was built around 1946. It is about 17 feet tall. There were at least two other barrels built by the same man. They were located in Westport, IL and Olney, IL and went by the name of Wally's Root Beer Barrel. The barrel in Olney still exists but it is now hidden in a backyard. The Douglas root beer stand sold hamburgers, hot dogs, and root beer floats. It operated until the around 1977. Shortly after these photos were taken in 2011, the barrel was disassembled. In 2016, it was restored and reassembled. For more, see this website. [map]
La Caņa Restaurant (now Idle Hour)
North Hollywood, CA

2008:
2013:
2015:
The La Caņa Restaurant was originally known as the Idle Hour Cafe when it was built in 1941. It was a cafe and bar. The barrel shaped building is 23 feet tall and 38 feet wide. The central barrel is flanked by two smaller ones. The central barrel's upstairs was used as an apartment by the owner. In the 1960s, the place was known as Rudy's Keg. It was renamed La Caņa in 1971 and operated as a flamenco dinner theater. The building had been vacant since 1984. In 2013, restoration of the building began. The restoration was finished in 2015 and the place reopened as the Idle Hour. For more, see these websites: 1 and 2. [map]
Barrel House Liquors
Washington, DC
The Barrel House Liquors barrel-shaped entrance was built in 1945. The neon sign in the parking lot behind the store was probably from the 1950s. In 2016, the liquor store moved to a smaller space next door and installed a new sign. There were plans to use the barrel as an entrance for an apartment complex above. That never happened. The parking lot sign was removed at some point. In 2021, it was announced that a Foxtrot gourmet convenience store would be moving into the space. The entrance and sign have been uncovered and will be preserved. For more, see this website. [map]
Kegs Lounge & Grill
Orange Beach, AL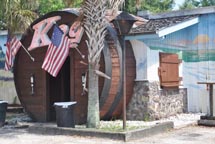 The Keg Lounge & Grill opened in 1980. I assume this barrel entrance is from then. [map]
Kegs Drive-in
Grand Forks, ND
The Kegs Drive-in was originally known as The Barrel. It was part of a 1930s local chain which had seven restaurants. The stands were part of the Triple XXX root beer franchise. The first location was in Great Falls, MT. The second was in Crookston, MN. This location was the third, built in 1935. There was originally just a single barrel here which served as a walk-up stand. In 1940, this location was moved to a larger lot. In 1946, the second barrel was added. It came from a closed Barrel location in Wadena, MN. Around this time, local began referring to the restaurant as The Kegs and the name was eventually changed. The barrels are twenty feet tall. The conical roofs were added in the early 1960s. This stand still features car hops. It is listed on the National Register of Historic Places. For more, see these websites: 1 and 2. [map]
RoadsideArchitecture.com

Copyright. All photos at this website are copyrighted and may only be used with my consent. This includes posting them at Facebook, Pinterest, blogs, other websites, personal use, etc.

Tips & Updates. If you have suggestions about places that I haven't covered, historical info, or updates about places/things that have been remodeled or removed, I'd love to hear from you: roadarch@outlook.com.