(hit "refresh" to get the most recent version of this page; click on photos for larger images)
Skyway Towing [gone]
Renton, WA
Bell Furniture
Richland, WA
Skyway Towing was established in 1960. This sign might have been from then. This photo is from 2015. The sign was gone by 2018.

Bell Furniture opened in 1948. These signs are probably from then or shortly after that. [map]
Ray's Golden Lion Restaurant
Richland, WA
Ray's Golden Lion Restaurant opened in 1950 and this sign appears to be from then. [map]
Lee's Tahitian
Richland, WA
Lee's Tahitian is also located in the Uptown Shopping Center. The restaurant opened in 1952 as Vina's Tahitian. The neon on the building and the palm tree sign is from then. The other neon sign was probably added later in the 1950s. The restaurant became Lee's Tahitian in 1976. For more, see these websites: 1 and 2. [map]
Pastime
Sports Center
Ritzville, WA
welcome sign
Ritzville, WA
The Pastime Sports Center opened as a bar in the 1940s. This sign is from then. For more, see this website. [map]

This welcome sign was built in 1941. It had been in storage for decades. In 2012, the sign was restored and reinstalled. For more, see this website. [map]
Roslyn Cafe
Roslyn, WA
The Roslyn Cafe sign is an adapted Philco Appliances sign. The backlit laurel leaves on the sides of these signs make them unique. [map]
Cascade Pizza [gone]
Sedro-Woolley, WA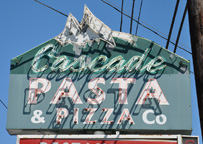 Cascade Pizza opened in 1975. This sign looks older than that and may have been adapted from a previous business. By 2018, the neon had been replaced with backlit plastic letters and the panels were repainted. [map]
Masonic Temple
Sedro-Woolley, WA
2008:
2015:
This Masonic Temple sign is probably from the 1950s. It was originally installed on top of the roof. By 2012, the sign had been restored and installed on the side of the building. [map]
T&T Lounge
Selah, WA
Ming Tree Cafe
Shelton, WA
Shelton Inn Motel
Shelton, WA
P.U.D. No. 1
Shelton, WA
The T&T Lounge sign appears to be from the 1950s or 1960s. [map]

The Ming Tree Cafe opened in 1952. This sign may be from then or possibly the 1960s. [map]

The Shelton Inn Motel was built in the 1960s as the Timbers Motel. One of the two neon pine trees from the pole sign was saved and moved over the office. [map]

P.U.D. No. 1 was established in 1934 as the first Public Utility District in Washington State. This sign might be from the 1950s. For more, see this website. [map]
Maltby Cafe & Gift Shops
Snohomish, WA
The exterior and grounds of the Maltby Cafe & Gift Shops are decorated with many signs owned by Ron Nardone. Nardone has a vast personal collection focused primarily on gasoline-related signs. Colonel Sanders weathervanes are extremely rare. The only others that I know of are in Gilt Edge, TN and at the Kentucky Fried Chicken Museum in Corbin, KY. These signs were installed on the cupolas of their buildings in the 1970s. For more, see this website. [map]
Viking Restaurant [gone]
Stanwood, WA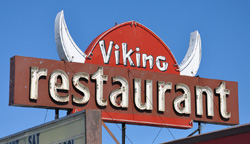 The Viking Restaurant sign was probably from the 1950s or 1960s. It was gone by 2021. For more, see this website.
RoadsideArchitecture.com

Copyright. All photos at this website are copyrighted and may only be used with my consent. This includes posting them at Facebook, Pinterest, blogs, other websites, personal use, etc.

Tips & Updates. If you have suggestions about places that I haven't covered, historical info, or updates about places/things that have been remodeled or removed, I'd love to hear from you: roadarch@outlook.com.