(hit "refresh" to get the most recent version of this page; click on photos for larger images)
Log Motel [gone]
Yakima, WA
Bonnie & Clyde's
Muffler Center
Yakima, WA
Yakima Sports Center
Yakima, WA
The Log Motel sign was probably from the 1950s or 1960s. This photo is from 2008. By 2012, the motel had been demolished and the sign was gone.

The Bonnie & Clyde's Muffler Center opened in 1967 shortly after the movie "Bonnie & Clyde" came out in the same year. This sign is from then. The plastic panels are original. The gun is metal. The bulb arrow may have flashed. There were two other locations: one in Sunnyside and one in Pasco. The Yakima location is the only one that had this gun sign. [map]

The Yakima Sports Center sign was installed in the early 1960s. The shooter sign supposedly came from a 1950s motel from Moses Lake, WA. The "spinning sportsman" revolves and shoots neon blasts from his gun. He has been known as "Gus" for ages. The Sports Center is a restaurant and lounge. In 2019, the signs were removed for a complete restoration and repainting back to the original colors. For more, see these websites: 1 and 2. [map]
Blossom Shop
Yakima, WA
Lariat Bar-B-Q
Yakima, WA
The Blossom Shop opened in 1952. These signs appear to be from then. For more, see this website. [map]

The Lariat Bar-B-Q opened in 1962. This sign appears to be from then. For more, see this website. [map]
Sears Tent & Awning
Yakima, WA
Red Apple Motel
Yakima, WA
K's Coin Laundry
Yakima, WA
Sears Tent & Awning opened in 1947. This sign is probably from the 1950s or 1960s. [map]

The Red Apple Motel has been around since at least the 1950s. This sign appears to be from then. The arrow read "Heated Pool" originally. There was another panel beneath the apple that read "Coffee." For more, see this website. [map]

The K's Coin Laundry sign was one of two identical signs located at Goddard's Appliance in Yakima. These signs were most likely built in the 1950s and probably had different text where "LAUNDRY" is now. This sign was moved to its current location around 1973. The other sign may have gone to Tacoma, WA. The Yakima sign was restored in 1993 by Wells Signs for about $6,000. It is lit in three-part animation with the washer woman bobbing up and down. The neon is yellow, green, blue, and red. The sign is about ten feet long. The owner has spent about $1,000 in the past five years to keep the neon working. Most of the repairs were needed due to rock-throwing vandals. [map]
Superbingo
Yakima, WA
Superbingo is officially known as Super D Bingo. The sign and building appear to be from the 1960s. [map]
former Tom-Tom Burgers [gone]
Yakima, WA
Bali-Hai Motel
Yakima, WA
Tom-Tom Burgers was built in 1966 and the sign was probably built then. The business closed in 1998. Tom-Tom Espresso opened there in 2000. The "Burgers" panel was changed to read "Espresso" at that time. Around 2019, the business became the C&S Coffeehouse and the sign was removed. It is now being restored along with the Ding Ho Restaurant sign. The two signs will be installed at the Rotary Marketplace. For more, see these websites: 1 and 2.

The Bali-Hai Motel sign is probably from the 1950s. [map]
Central Chain & Transmission
Yakima, WA
Central Chain & Transmission was established in 1947. These signs are probably from the 1950s or later. They may be recently refurbished signs or replicas of earlier signs. [map]
Apostolic Faith Church
Yakima, WA
The Apostolic Faith Church sign is probably from the 1950s or earlier. The neon protected behind plastic panels. Evidently, this church which is based in Portland, OR produced at least a couple of these signs. There is another one like this in the Vancouver Museum in Vancouver, BC. That one has block letters along the bottom of the panels. [map]
Pepsi-Cola
Yakima, WA
Squirt
Yakima, WA
This Pepsi-Cola sign was built sometime after 2012. It stands next to the Pepsi-Cola Bottling Company bottling and distribution plant. [map]

This Squirt sign was located on the roof of the Pepsi-Cola Bottling Company building when this photo was taken. By 2015, the sign had been moved to the side of the building. [map]
410 Restaurant [gone]
Yakima, WA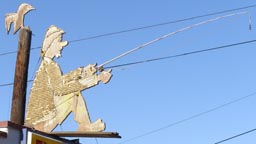 This fisherman sign was originally installed on the roof of the 410 Restaurant which featured fresh seafood. The street on which it was located was named Highway 410 at that time. The sign was installed at Flairs Discount Center when this photo was taken in 2008. The sign was still there in 2012. By 2015, it was gone.
These signs are among the collection at the Yakima Valley Museum's Neon Garden. All of the signs were previously installed around town.

The Union Gospel Mission sign is from the 1940s.

This diving woman sign was installed around 1962 when a pool was added at the Grandee Lodge Motel. The Grandee became a Knight's Inn Motel in 1969. The diving girl was probably modeled after the Jantzen Girl. The motel operated as the Niska Inn from 1993-1995. The sign was removed in 1995 by Wells Signs and was later donated to the museum.

The Taxi sign was installed at the Yellow Cab Company in 1942.

The Yakima Cycle Shop sign is from around 1940. The store closed in 1996. The bike's wheels spin. For more, see this website.

The typist in the Commercial Office Equipment sign taps on the keys. For more, see this website.
Wells Signs [gone]
Yakima, WA
Wells Signs had several old signs from around town in its storage lot when these photos were taken in 2008. Sullivan's Dry Cleaners and the Shady Lane Motel were both Yakima businesses which closed around 2007. When Wells Signs closed, these two signs as well as many others were donated to the Yakima Valley Museum where they remain in storage. For more, see these websites: 1, 2, and 3.
RoadsideArchitecture.com

Copyright. All photos at this website are copyrighted and may only be used with my consent. This includes posting them at Facebook, Pinterest, blogs, other websites, personal use, etc.

Tips & Updates. If you have suggestions about places that I haven't covered, historical info, or updates about places/things that have been remodeled or removed, I'd love to hear from you: roadarch@outlook.com.