(hit "refresh" to get the most recent version of this page; click on photos for larger images)
Hotel Hayward
Los Angeles, CA
St. George Hotel
Los Angeles, CA
Hotel Barclay
Los Angeles, CA
The Hotel Hayward was built in 1906. This sign is from the late 1920s or early 1930s. It was restored and relit in 2004. For more, see this website. [map]

The St. George Hotel was built around 1904. This sign appears to be from the 1940s or earlier. [map]

The Hotel Barclay was built in 1897 as the Van Nuys Hotel. It was renamed the Hotel Barclay in 1925. These signs are probably from the late 1920s or 1930s. [map]
Auto Park
Los Angeles, CA
Taft Building
Los Angeles, CA
The Auto Park sign is probably from the 1920s or 1930s. It may have been adapted from another business. However, the letters appear to be either be refurbished or replicas of the originals. The panels are made from ripple tin. There must have been text or a design at the top of the sign. [map]

The Taft Building was built in 1923 and this sign appears to be from then. It was the first high-rise office building built in Los Angeles. For more, see this website. [map]
Piccadilly Apartments
Los Angeles, CA
Parisian Florist [gone]
Los Angeles, CA
The Piccadilly Apartments were built in 1929. This sign was installed then or by 1931. For more, see this website. [map]

The Parisian Florist had been here since at least the 1920s. All of these signs had neon originally. The sign above the door had a neon rose at the center. The store moved to a new location in 2018 and these signs were removed. The signs were donated to the Museum of Neon Art in Glendale, CA. For more, see this website.
Mark Twain Hotel
Los Angeles, CA
Arwyn Manor
Los Angeles, CA
The Mark Twain Hotel was built in 1924. This sign may be from then. [map]

The Arwyn Manor apartment building was built in 1928. This rooftop sign was installed then. For more, see this website. [map]
Ancelle Apartments
Los Angeles, CA
Lee's Liquors
Los Angeles, CA
The Ancelle Apartments were built in 1926. These signs may be from then. The building was originally owned by Mary Pickford who used it as a hotel to house her movie crews. For more, see this website. [map]

Lee's Liquors opened in 1957. The sign was repainted sometime between 2009 and 2011. For more, see these websites: 1 and 2. [map]
Frolic Room
Los Angeles, CA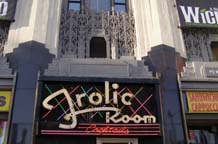 The Frolic Room opened around 1930. It was originally a private lounge for the Pantages Theatre located next door. In 1934, it opened officially as Freddy's Frolic Room. I believe this sign is from then. [map]
El Cholo
Los Angeles, CA
El Cholo
La Habra, CA
El Cholo
Santa Monica, CA
The El Cholo restaurant was established as the Sonora Cafe in downtown Los Angeles in 1923. The name was changed to El Cholo in 1925. The restaurant's mascot was developed at that time. The downtown Los Angeles location opened in 1927. The lower text part of the sign may be from then. I don't know about the upper part of the sign. There is now another location downtown as well as other locations in Santa Monica and Irvine. [map]

The La Habra location opened in 1962. This sign was installed sometime between 2011 and 2015. It is similar to those at the other locations. For more, see this website. [map]

The El Cholo sign inside the Santa Monica location has a card next to it saying it is the "original sign from 1931". The ripple tin panels appear to be from the 1920s or 1930s. The Santa Monica location was built in 1997.
RoadsideArchitecture.com

Copyright. All photos at this website are copyrighted and may only be used with my consent. This includes posting them at Facebook, Pinterest, blogs, other websites, personal use, etc.

Tips & Updates. If you have suggestions about places that I haven't covered, historical info, or updates about places/things that have been remodeled or removed, I'd love to hear from you: roadarch@outlook.com.