(hit "refresh" to get the most recent version of this page; click on photos for larger images)
Nall Nash Motor Co.
Tyler, TX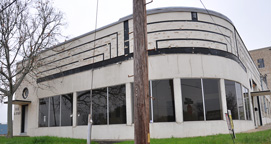 The Nall Nash Motor Co. dealership was built in 1948. It later served as a Volvo dealership. The building was vacant when these photos were taken in 2011. In 2012, "The Fix Shop" had moved into the building. The building may be vacant now. [map]
former Buick showroom
Vernon, TX
This former Buick showroom now houses Jimmy's Body Shop and Barbed Wire & Roses. [map]
former McDavid Oldsmobile showroom
Weatherford, TX
The former McDavid Oldsmobile showroom was built around 1919. The dealership also sold gas. Since 2016, the buildings have housed the Vintage Grill and Event Center. [map]
former showroom
Whitesboro, TX

2008:
2018: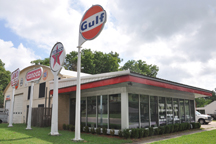 This former showroom may have housed a Chevrolet dealership originally or at one point. For many years, it housed a private car collection. By 2014, the showroom was vacant and the building was for sale. By 2018, the building was housing Texoma Trucks and More and was decorated with gas station signs. [map]
former Chevrolet showroom
Yorktown, TX
This former Chevrolet showroom appeared to be vacant when these photos were taken in 2011. It still appears to be vacant in 2021. The building is probably from the 1930s. [map]
RoadsideArchitecture.com

Copyright. All photos at this website are copyrighted and may only be used with my consent. This includes posting them at Facebook, Pinterest, blogs, other websites, personal use, etc.

Tips & Updates. If you have suggestions about places that I haven't covered, historical info, or updates about places/things that have been remodeled or removed, I'd love to hear from you: roadarch@outlook.com.