(hit "refresh" to get the most recent version of this page; click on photos for larger images)
Jim Brooks Oldsmobile Cadillac
Denison, TX
The Jim Brooks Oldsmobile Cadillac dealership now houses a Sherwin-Williams paint store. [map]
former Packard showroom
Fort Worth, TX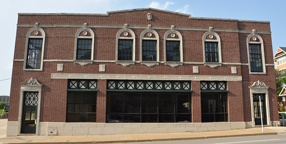 This former Packard showroom was built around 1925. In the 1930s, H.B. Ransom sold Chrysler and Plymouth automobiles here. The building served as a dealership until at least the mid-1960s. For more, see this website. [map]
former Buick showroom
Galveston, TX
This former Buick showroom was designed by Ben Milam and built in 1950 for Pennington Buick. The building has been significantly remodeled and was used for retail space. These photos are from 2011. By 2016, the building was housing Island Automotive. For more, see this website. [map]
Davidson Motor Company [gone]
Graham, TX

The Davidson Motor Company was established in 1937. This building appears to be from the 1950s. This photo is from 2011. While the dealership is still there, by 2018, the building had been completely remodeled and covered with modern white, silver, and black panels. [map]
J.P. "Punk" McNatt Motor Co.
Greenville, TX
The J.P. "Punk" McNatt Motor Co. showroom is now used for storage. It was probably built in the 1930s or 1940s. These photos are from 2011. The building appears to be vacant now. [map]
Hollingsworth Motor Company
Harlingen, TX
The Hollingsworth Motor Company building was built in the late 1920s. It was Harlingen's first Ford dealership. The building later housed Knapp Chevrolet. After that, there were other non-automobile businesses here including the Holsum Baking Company and the Bebrick Paint Company. The building was later occupied by White Cleaners and, after that, CBC Offroad. The building is now housing a gym. [map]
Knapp Chevrolet
Houston, TX

2011:
2018:
The Knapp Chevrolet showroom was built in 1941. In 2014, the left side of the building was covered with modern Chevrolet's silver panels and the signs were changed. For more, see this website. [map]
former showroom
Kilgore, TX

This former showroom housed Terry Ford in the mid-1960s. By the late 1960s, the building housed Dusty Rhodes Ford. Later, the building housed a dress shop. It now houses Nardis Public Safety. [map]
former showroom
Kilgore, TX
2011:
2018:
This former showroom was built in 1949-1950. It housed Center Chevrolet from at least the early 1960s and may have been the original tenant. From 1966-1979, the building housed Ringler Chevrolet. The building housed the Office Center in 2011. By 2013, the building was housing ETEX Motors Accessories. Since 2016, the building has housed the Texas Museum of Broadcasting & Communications. The front windows have been covered up. [map]
RoadsideArchitecture.com

Copyright. All photos at this website are copyrighted and may only be used with my consent. This includes posting them at Facebook, Pinterest, blogs, other websites, personal use, etc.

Tips & Updates. If you have suggestions about places that I haven't covered, historical info, or updates about places/things that have been remodeled or removed, I'd love to hear from you: roadarch@outlook.com.