(hit "refresh" to get the most recent version of this page; click on photos for larger images)
This Texas Car Showrooms section is organized alphabetically by city. There's a separate page for San Antonio (see link at bottom of page).
former Vandergriff Chevrolet showroom
Arlington, TX
This former Vandergriff Chevrolet showroom was built in the mid-1960s. The building has been demolished. However, the sign was saved and installed in Vandergriff Park in 1996. It was painted black when these photos were taken in 2011. It was repainted the original dark blue after that. The original round Chevrolet sign panel revolved around the "V". For more, see this website. [map]

The original Vandergriff dealership building from 1928 has been restored.
former Weatherby Motor Co.
Brownwood, TX

The Weatherby Motor Co. was established in 1912. I don't know if this was the company's original location. The company advertised this building as "Ford Square". The company was selling Ford, Lincoln, and Mercury in the 1950s and 1960s. These canopies appear to be from the 1960s. The company operated there until at least the 1990s. The building now houses Harris Broadband. [map]
former showroom
Bryan, TX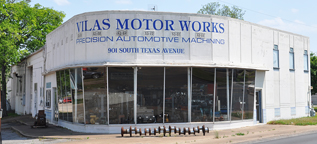 This former showroom now houses Vilas Motor Works. [map]
former showroom
Caldwell, TX

This building appears to be a former showroom. It probably also had a gas station. It appears to be from the 1920s or 1930s. When this photo was taken in 2011, the building housed K's Cafe. By 2013, the main occupant was Porky's Bar-B-Q. By 2016, Porky's was gone and the space was vacant. [map]
Michie Building
Childress, TX
The Michie Building was built in 1926 as a Willys-Overland Whippet dealer. The building also served as a gas station at the time. [map]
Corpus Christi Electric Company
Corpus Christi, TX

These Corpus Christi Electric Company buildings were built in 1965 for Lew Williams' Chevrolet City. They later housed Gainan Chevrolet. The smaller building in the second row was used as the used car office. The building with the sawtooth roof housed the service bays. For more, see this website. [map]
RoadsideArchitecture.com

Copyright. All photos at this website are copyrighted and may only be used with my consent. This includes posting them at Facebook, Pinterest, blogs, other websites, personal use, etc.

Tips & Updates. If you have suggestions about places that I haven't covered, historical info, or updates about places/things that have been remodeled or removed, I'd love to hear from you: roadarch@outlook.com.