(hit "refresh" to get the most recent version of this page; click on photos for larger images)
Teague & Son Chevrolet
Mount Vernon, TX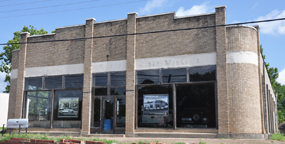 The Teague & Son Chevrolet showroom was built in 1949. The building had been vacant for many years before being renovated in 2013. For more, see this website. [map]
Bluebonnet Chrysler Dodge
New Braunfels, TX

I believe the Bluebonnet Chrysler Dodge dealership was established in 1928. I don't know when this building or sign were built. Between 2014 and 2016, new signs were on the building although the dealership was still operating under the same name and selling the same brands. The neon sign had been moved to a building on the left just beyond the frame of this photo. For more, see this website. [map]
W.O. Speck Building
Plainview, TX
The W.O. Speck Building was constructed in 1947. In the 1920s, the company was selling REO cars and trucks. [map]
Abell Chevrolet Co.
Ralls, TX

The Abell Chevrolet Co. building has been vacant for many years. Abell Chevrolet was established in 1936. [map]
Jackman Ford
San Marcos, TX
The Jackman Ford dealership was supposedly built in 1920. However, city telephone directories show that the dealership was there in 1919. The building also served as a garage at the time. It has not been used for car-related businesses for many years. [map]
former Bandeen Motor Co.
Stamford, TX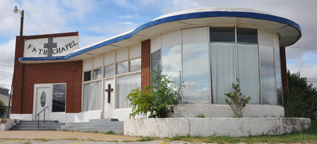 This Bandeen Motor Co. dealership was built in 1940. Bandeen was there by 1955 and may have been the original tenant. The building now houses the Faith Chapel. [map]
Eiland Motor Co.
Stanton, TX
I believe the Eiland Motor Co. building was built in 1929. B.F. White Motor Company has been operating here since at least 1945. [map]
Taylor Motor Co.
Taylor, TX

2011:
2018:
The Taylor Motor Co. building was supposedly built in 1931. However, it looks more 1940s to me. The building housed the Taylor Auto Credit Service Center when these photos were taken in 2011. The Chevrolet sign must have revolved. It advertised Buick on the other side. These signs were removed around 2013. By 2016, the display windows had been boarded up. The building has been painted green and now houses Taylor Auto Credit. For more, see this website. [map]
RoadsideArchitecture.com

Copyright. All photos at this website are copyrighted and may only be used with my consent. This includes posting them at Facebook, Pinterest, blogs, other websites, personal use, etc.

Tips & Updates. If you have suggestions about places that I haven't covered, historical info, or updates about places/things that have been remodeled or removed, I'd love to hear from you: roadarch@outlook.com.