(hit "refresh" to get the most recent version of this page; click on photos for larger images)
Edward A. Greer Education Center
Las Vegas, NV
The Edward A. Greer Education Center was designed by Zick & Sharp and built in 1965. [map]
Las Vegas Country Club
Las Vegas, NV
The Las Vegas Country Club clubhouse was designed by Julian Gabrielle and completed in 1968. It was originally known as the Las Vegas International Country Club. It was sold and named the Bonanza Country Club and Corral. In 1971, it became the Las Vegas Country Club. For more, see this website. [map]
Marnell House
Las Vegas, NV
The Marnell House was built in 1968. It was designed by Anthony Marnell. The house was restored in 2014. At that point, the dome on the roof was changed. It used to be more slender like those at the Las Vegas Country Club shown above. These photos are from 2017. [map]
Morelli House
Las Vegas, NV

The Morelli House was built in 1959 in the Desert Inn Country Club Estates. The owner and builder of the house was Antonio Morelli. In 2001, when the house was threatened with demolition by the development of the Wynn Resort, it was moved to its current location. The building now houses the Junior League of Las Vegas. For more, see this website. [map]
1412 Maria Elena Dr.
Las Vegas, NV
1414 Maria Elena Dr.
Las Vegas, NV
The house at 1412 Maria Elena Dr. was built in 1966. It was designed by Palmer & Krisel. [map]

The house at 1414 Maria Elena Dr. was built in 1964. It was designed by Palmer & Krisel. [map]
house
Las Vegas, NV

2014: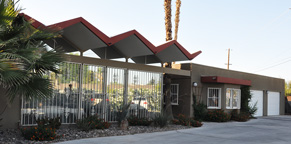 2023:
This house was built in 1963. It was painted white and a few features have been changed since 2006. [map]
UNLV (University of Nevada)
Las Vegas, NV
Carlson Education Building
Holbert H. Hendrix Education Auditorium
Flora Dungan Humanities Building
The Carlson Education Building and the Holbert H. Hendrix Education Auditorium at UNLV were built in 1972. The Flora Dungan Humanities Building was designed by Zick & Sharp and built in 1970. [map]
RoadsideArchitecture.com

Copyright. All photos at this website are copyrighted and may only be used with my consent. This includes posting them at Facebook, Pinterest, blogs, other websites, personal use, etc.

Tips & Updates. If you have suggestions about places that I haven't covered, historical info, or updates about places/things that have been remodeled or removed, I'd love to hear from you: roadarch@outlook.com.