(hit "refresh" to get the most recent version of this page; click on photos for larger images)
former Red Barn [gone]
Las Vegas, NV
This former Red Barn housed the Dona Norma restaurant when these photos were taken in 2014. I don't believe the tower on the right was original. This building was demolished in 2016. The Red Barn chain was established in 1961 in Springfield, OH. There are lots of adapted buildings around the country, including these in Colorado. For more, see these websites: 1 and 2.
Schlotzky's Deli
Las Vegas, NV

Schlotzky's Deli originally housed Nifty's Drive-in. Does anyone have a vintage photo? [map]
Tacos Mexico
Las Vegas, NV
2014:
2017:
This Tacos Mexico building was built around 1967. I don't know what the original tenant was but it housed Chin Chin's Chinese Cuisine in the late 1970s. Tacos Mexico has been the occupant since at least 2007. The building was repainted around 2015. [map]
former Carrol's Hamburgers [gone]
North Las Vegas, NV

2006:
2014: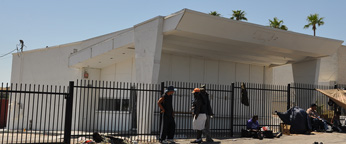 This Carrol's Hamburgers was part of a nationwide chain was established in 1960. There may have been 167 locations built. The Carrol's locations were converted into Burger Kings in 1975. Somehow, this building in Las Vegas escaped for many years. Most likely, it had already been closed by then. Although the building had been occupied by an auto parts store before these 2006 photos, many of the original details survived. The building was vacant at that point. By 2010, the signs had either been removed or painted over. The pole sign was gone and the fins that projected above the roof had been removed. The building was still there in 2019 but gone by the following year.

The only other Carrol's building of this type that I know of that survived, although drastically remodeled as a Domino's Pizza, is in Annandale, VA. That building was even further remodeled by 2012. For more, see these websites: 1, 2, and 3.
Frosty Stand
McGill, NV
Pete's Drive-in
Ely, NV
The Frosty Stand was built in the late 1950s as Bob's Drive-in. It became the Frosty Stand in the early 1960s. It has been closed since at least 2009. [map]

Pete's Drive-in has been closed since at least 2009. [map]
RoadsideArchitecture.com

Copyright. All photos at this website are copyrighted and may only be used with my consent. This includes posting them at Facebook, Pinterest, blogs, other websites, personal use, etc.

Tips & Updates. If you have suggestions about places that I haven't covered, historical info, or updates about places/things that have been remodeled or removed, I'd love to hear from you: roadarch@outlook.com.