(hit "refresh" to get the most recent version of this page; click on photos for larger images)
Aztec Ocean Resort
Seaside Heights, NJ
Fotomat
Marlboro, NJ
The Aztec Ocean Resort looks to be from the 1960s or so. It is located right on the beach. The complex includes a restaurant, bar, and motel rooms.

This former Fotomat kiosk stands abandoned in an A&P supermarket shopping center parking lot. Fotomat was a drive-thru photo developing chain founded in San Diego, CA in the 1960s. Their kiosks were located in shopping center parking lots. By 1980, there were over 4,000 locations nationwide. The original buildings had gold roofs. With the invention of one-hour developing, Fotomat's one-day service became obsolete. They began selling off their kiosks in the mid-1980s. There are still many examples of adaptive reuse of these buildings across the country. For more, see these websites: 1 and 2. [map]

There is another abandoned Fotomat kiosk in Paulsboro, NJ.
MAB Paints
Mount Ephraim, NJ
A&S Dry Cleaners
Hackettstown, NJ
This MAB Paints store appears to be from the 1960s. The bays to the right suggest it might have been an auto-related business originally. [map]

The A&S Dry Cleaners building features a butterfly roof. Based on the design, this was probably a Martinizing Cleaners originally and built in the 1960s. [map]
World of Tile [gone]
Springfield, NJ

The World of Tile opened in 1957. The building and sign were probably built then. I assume the globe part of the sign originally revolved. In 2014, World of Tile closed. The globe was sold and was removed from the sign. The building was demolished in 2015 and the rest of the sign is gone now. For more, see this website.
Dunkin' Donuts
North Plainfield, NJ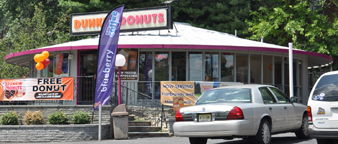 This round Dunkin' Donuts building is similar enough to the World of Tile (described above) to make me wonder if it wasn't another location. It is referred to as the Roundhouse. This place may have been either a car dealership or an Eber's Casual Furniture location originally. It later housed a Subway restaurant, a pizza place, and then Jimmy Buff's restaurant before becoming a Dunkin' Donuts. [map]
Roger Wilco Liquors
Pennsauken, NJ

former Roger Wilco Liquors
Burlington, NJ

Roger Wilco Liquors
Palmyra, NJ

Roger Wilco Liquors was established in 1955. There are several locations but I believe these three are the only mid-century modern buildings. They appear to be from the 1950s or 1960s.

The Pennsauken location has a geodesic-style roof. These photos are from 2009. By 2013, the building had been painted bright yellow. The dome was still gold. [map]

The Burlington location is now Discount Liquor World. This building's parabolic roof is similar to this Ford showroom in Lexington, KY which was built in 1964. [map]

The Palmyra location features an interesting roof and chimney-like pylon. [map]
RoadsideArchitecture.com

Copyright. All photos at this website are copyrighted and may only be used with my consent. This includes posting them at Facebook, Pinterest, blogs, other websites, personal use, etc.

Tips & Updates. If you have suggestions about places that I haven't covered, historical info, or updates about places/things that have been remodeled or removed, I'd love to hear from you: roadarch@outlook.com.