(hit "refresh" to get the most recent version of this page; click on photos for larger images)
former Howard Johnson's
Bay City, MI
This Howard Johnson's opened in 1965. From the late 1980s until the mid-1990s, it operated as another restaurant. It went back to use as a Howard Johnson's restaurant until closing around 2005. The restaurant building was still vacant when these photos were taken in 2011. By 2017, the steeple was gone. By 2018, the building was gone. The motel became a Best Western, then a Best Value Inn, then an EconoLodge, a Valu Inn, and now is an EconoLodge again. For more, see this website. [map]
former Howard Johnson's
Belleville, MI
This Howard Johnson's restaurant and motor lodge complex opened in 1960. The former restaurant building now houses the China King Express. The motor lodge has been demolished. For more, see these websites: 1 and 2. [map]
former Howard Johnson's
Flint, MI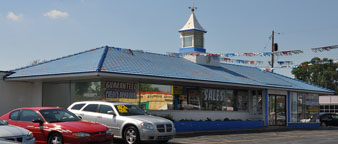 This Howard Johnson's restaurant opened around 1954. The building now houses Mike's Used Cars. The bottom part of the Simple Simon & Pieman weathervane remains. For more, see this website. [map]
former Howard Johnson's
Grand Rapids, MI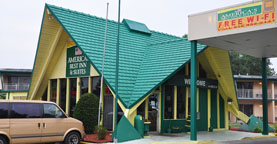 The Howard Johnson's motor lodge was built in 1964. It now houses a Budgetel. The restaurant building is gone. For more, see this website. [map]
former Howard Johnson's Restaurant & Motor Lodge
Rockingham, NC

This Howard Johnson's opened in 1953 and closed in 1972. A few other restaurants opened here after that but they did not last. There has been talk of demolishing this building for many years. This photo is from 2010. The building was still vacant in 2019. By 2022, the only thing left was some of the steel beams of the building. For more, see this website. [map]
former Howard Johnson's
Asbury Park, NJ

2001:
This Asbury Park location opened in 1962. The building was designed by John Duhring Fridy. In 2005, the interior was gutted and remodeled. In 2006, the restaurant reopened. However, by 2007, the Howard Johnson's sign was gone and the restaurant was being renovated again. In 2007, it reopened as the Salt Water Beach Cafe. The building now houses Tim McLoone's Supper Club. The building and spiral pedestrian walkway are now painted gray and white. For more, see these websites: 1 and 2. [map]
Crystal Inn
Neptune, NJ
The Crystal Inn uses a nicely maintained former Howard Johnson's motor lodge gate house as its office. It is believed that William Franklin Cann designed the original gate house building in 1958. This Neptune building still retains the original Lamplighter weathervane. There is no Howard Johnson's restaurant building on the property. [map]
RoadsideArchitecture.com

Copyright. All photos at this website are copyrighted and may only be used with my consent. This includes posting them at Facebook, Pinterest, blogs, other websites, personal use, etc.

Tips & Updates. If you have suggestions about places that I haven't covered, historical info, or updates about places/things that have been remodeled or removed, I'd love to hear from you: roadarch@outlook.com.