(hit "refresh" to get the most recent version of this page; click on photos for larger images)
former Howard Johnson's
Afton, VA
This Howard Johnson's was built in 1948. The building was updated in the 1960s, removing the original dormers and adding the cupola. The location closed in 1998. When the first photo was taken in 2008, the building still had the Simple Simon & Pieman weathervane. By 2009, the steeple and weathervane were gone. The other three photos are from 2011. The building remains vacant. For more, see this website. [map]
former Howard Johnson's Restaurant & Motor Lodge [restaurant gone]
Bristol, VA
This Howard Johnson's motor lodge has housed the Red Carpet Inn since 2001. The photos above are from 2009. The restaurant building was demolished by 2013. [map]
former Howard Johnson's [gone]
Danville, VA
This Howard Johnson's restaurant was a stand-alone (no adjacent motor lodge). The building was vacant for a long time (top photo) but it reopened around 2006 as the West Main Country Kitchen (bottom photo). At some point, it became the State Line Cafe and then the 29 Diner. However, the building was vacant by 2012. The bottom part of the Simple Simon & Pieman weathervane remained. The building was demolished in 2014. [photos thanks Robby Delius]
former Howard Johnson's
Warrenton, VA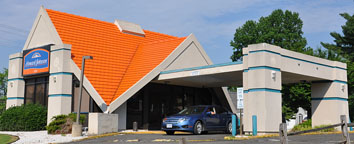 This Howard Johnson's was built in 1966. The original gate house has been remodeled. The restaurant has housed a Foster's Grille since the 1990s. For more, see this website. [map]
Howard Johnson's [gone]
Springfield, VT
This Howard Johnson's restaurant was built in 1965. When these photos were taken in 2003, the building still had the finned cupola with the Pieman weathervane. There was also Simple Simon and Pieman artwork near the entrance. The interior featured the original counter and stools, terrazzo floor, as well as the World of 28 Flavors glass work. The adjacent former Howard Johnson's motor lodge had been converted into a Holiday Inn. This Howard Johnson's restaurant closed and was demolished in 2005. For more, see this website.
RoadsideArchitecture.com

Copyright. All photos at this website are copyrighted and may only be used with my consent. This includes posting them at Facebook, Pinterest, blogs, other websites, personal use, etc.

Tips & Updates. If you have suggestions about places that I haven't covered, historical info, or updates about places/things that have been remodeled or removed, I'd love to hear from you: roadarch@outlook.com.