(hit "refresh" to get the most recent version of this page; click on photos for larger images)
This Pirate statue is installed at San Pedro High School next to the football field. The statue is 21 feet tall. It is believed to have been built in the early 1960s. It had been located in several places in town over the years. It was moved to the high school in 2003. The pirate is the school's mascot. The statue was restored in 2012 by Janice Olivieri as a Girl Scout Gold Award project. For more, see this website.
Pirate
Fresno, CA
Pirate
Dillon Beach, CA
This Pirate statue in Fresno is located at Blackbeard's Family Entertainment, an amusement park.

This Pirate statue in Dillon Beach appears to be bronze. It was installed here sometime after 2001. The statue is meant to represent George Dillon who settled here in 1858 and founded the village. The original statue was stolen and this is a replica. There is a bit of fiction about the original statue being inside a pizza shop in Petaluma, CA but that was entirely fabricated. [map]
Pirate & Mermaid
Oceanside, CA
Caveman & Cavewoman
Santa Cruz, CA
Guard [gone]
Kernville, CA
This Pirate and Mermaid statues are installed next to the Rodeway Inn. Does anyone know how long they have been here or what business they were associated with originally? [map]

The Caveman and Cavewoman photo-op statues are located on the Boardwalk. There are also a Caveman and Cavewoman statues on the Sky Ride and Cave Train Ride. The Cave Train Ride was built in 1961. I don't know how old these statues are. They appear to be recent additions to me. For more, see these websites: 1, 2, 3, and 4.

This Guard was located at Kernville Mini Storage. The statue had been there since at least 2012. By 2021, he appeared to be gone. There are other Guard statues at storage facilities in Washington but they are a different design.
Genie & Magic Lamp
Indio, CA
This Genie & Magic Lamp statues are installed at the Riverside County Fairgrounds. They have been here since 1981. Does anyone know who built them and when? [map]
Fallen David
Fullerton, CA
This Fallen David statue is located at the California State University at Fullerton. This replica of Michelangelo's David was originally installed in 1967 at Forest Lawn Memorial Park in Cypress, CA. During an earthquake in 1987, the statue was knocked over and broken. It was donated to the university and put on display in 1989. The statue was originally over 13 feet tall. It is made of white Carrara marble. Students rub the statue's butt for good luck on their finals.
Fishermen's Memorial
Ventura, CA
The Fishermen's Memorial was dedicated in 2005. The arch is located at Ventura Harbor Village. It is about ten feet tall. It pays tribute to local fishermen that died at sea. The sculpture was done by Michel Petersen. She used plaster casts of four working fishermen for the artwork.
Pharaoh's Adventure Park [gone]
Redlands, CA

2008: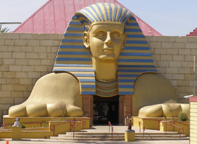 Splash Kingdom Waterpark [gone]

2013:
This giant Sphinx guarded the entrance to Pharaoh's Adventure Park when this first photo above was taken. The park operated from 1996-2006. In 2012, it reopened as the Splash Kingdom Waterpark. The Sphinx and other Egyptian-themed statues and mini golf course inside the park were still there in 2013. By 2018, the Sphinx was gone. I don't know if the other statues are still there. In 2020, there was a major fire on the property. I doubt this place will ever reopen.
RoadsideArchitecture.com

Copyright. All photos at this website are copyrighted and may only be used with my consent. This includes posting them at Facebook, Pinterest, blogs, other websites, personal use, etc.

Tips & Updates. If you have suggestions about places that I haven't covered, historical info, or updates about places/things that have been remodeled or removed, I'd love to hear from you: roadarch@outlook.com.