(hit "refresh" to get the most recent version of this page; click on photos for larger images)
former Shell station
Poughkeepsie, NY

2003:
2010:
Shell developed this station design in the 1960s. The abstracted red chimney pylon between the office and service bays served as a sign tower. For more, see these websites: 1 and 2.

This former Shell was built in the late 1960s. In 2003, the building housed Rube & Sons. The business stopped selling gas when Route 9 expanded. The Shell logo atop the red column was covered up but the "Service is Our Business" motto was still visible. By 2010, the building had been repainted and was housing Solar Shades. [map]
former Esso station [gone]
Schuylerville, NY
former Gulf station
Saugerties, NY
This former Esso still carried the "Happy Motoring" motto when this photo was taken in 2003. It was closed then and for sale. The building was demolished around 2007. Part of the building was probably built in the 1950s. However, the Streamline details and lettering over the office might indicate that the office portion is older than that. The portion to the left of it might have been an addition. The bay building was also probably added later. The "Muziker Service" signage referred to the station's owner, Frank Muziker.

The former Curry Bros. Gulf station was built in 1957. The pumps were gone by 2009 but the garage was still performing repairs. The Curry Bros. letters are gone now. [map]
former Gulf station [gone]
New York, NY
This former Gulf station last housed the B Bar and Grill. In 1994, the abandoned station was converted to a restaurant known as the Bowery Bar. The interior was used as the restaurant and bar while the fueling area was a walled-in patio dining area. B Bar closed in 2020 and the building was demolished in 2021. For more, see this website.
Kwik Fill
Le Roy, NY
This Kwik Fill station was most likely a Minute Man station originally. Both Minute Man and Falcon stations were built using this design. I'm pretty sure that the brand was Falcon in Pennsylvania and Minute Man in New York. Minute Man was purchased by United Refining which uses the Kwik Fill brand name today. I believe this station was built in the late 1950s. [map]

See this page for Pennsylvania stations using this design. If you know of any others, I'd love to hear from you.
Kwik Fill
Rochester, NY
Antone's
Salamanca, NY
This Kwik Fill in Rochester is another former Minute Man station. [map]

Antone's, a former Minute Man station, is an independently operated station now. [map]
Kwik Fill
Wellsville, NY
Kwik Fill
Springville, NY
Kwik Fill
Westfield, NY

Stop & Gas
Lockport, NY
This Stop & Gas station is another former Minute Man like those described above. [map]
former Minute Man station
Jamestown, NY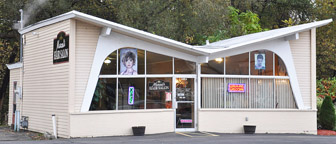 The canopy of this former Minute Man station has been enclosed and the building now houses Marcel's Hair Salon. [map]
former station
Ancram, NY

2003:
2007:

| | |
| --- | --- |
| | |
This former station has interesting use of stone and very unusual office windows. In 2004, this building had been cleaned up and occupied by Shazzam's Auto Detailing. By 2007, the building was vacant again. It was still vacant in 2018. [map]

There is another station like this in Cairo, NY.

A nearly identical Associated station existed in Aiea, HI. The Hawaii station was built in 1951. It was designed by Wimberly and Cook, a Honolulu firm. At that time, Associated was part of the the Tidewater Associated Oil Company. Tidewater built a lot of stations in New York using the Flying A name. It's possible that this design might have been reused by Tidewater in Ancram. For more, see this website.
former Amoco station
Valley Stream, NY
This former Amoco station features a split, 1960s looking roof. There was also a huge, plastic rooftop sign when these photos were taken in 2007. I don't know what brand of gas was sold here originally. By 2014, this had become a BP station. The building remains the same but the sign is gone. There was another example of this station and sign in Kensington, MD. [map]
Jet Gas station
Watertown, NY
This Jet Gas station features a curved, mid-century modern looking roof. There was a rocket next to the sign until a few years ago. This station may have been part of a local chain. Does anyone know more about this place? For more, see these websites: 1 and 2. [map]
Coffee Mania
Cortland, NY
2007:
2010:
This Coffee Mania building was probably built in the 1960s. It was used as a Texaco station and then later a Hess station. It may have been a Skat station originally. The store was being repainted when this 2010 photo was taken. [map]
RoadsideArchitecture.com

Copyright. All photos at this website are copyrighted and may only be used with my consent. This includes posting them at Facebook, Pinterest, blogs, other websites, personal use, etc.

Tips & Updates. If you have suggestions about places that I haven't covered, historical info, or updates about places/things that have been remodeled or removed, I'd love to hear from you: roadarch@outlook.com.