(hit "refresh" to get the most recent version of this page; click on photos for larger images)
former station [gone]
Unadilla, NY
This former station was built around 1930. There was a fairly modern Gulf sign on the property but I don't know what brand was sold here originally. The building housed RC Sales & Service when these photos were taken in 2005. The building was demolished around 2011.
former station [gone]
Endwell, NY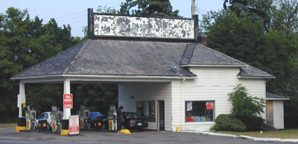 This former station looked like it was probably built in the 1920s. It was originally a Rotary station and offered full-service gas until the end. The building was demolished in 2008 and replaced with a larger, modern station.
former Toomey's gas station
Bloomfield, NY
2001:
2010:
Toomey's gas station was built in 1929. It was probably a Rotary station based on its similarity to the Endwell station above. The building had been restored by 2010. Since 2011, it has housed Shivers, Shakes & Cones. [map]
former station [gone]
Rochester, NY
This former station housed Lou Fico's Repair & Refinish Collision when these photos were taken in 2010. By 2014, the building had been demolished.
former Texaco station
Geneva, NY

This former Texaco station was built in 1922. The service bays were added by the 1950s. Texaco closed in the 1970s and the City acquired the property. In 2003, the building was occupied by Sampson Glass, an auto glass repair shop. By 2005, the building was being used as a Greyhound station. When these photos were taken in 2010, the building was vacant. Since 2013, the building has housed the Lake Street Station Winery. [map]
former Rotary station
Buchanan, NY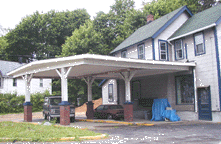 This former Rotary station was built in 1927 and sold Rotary gas and kerosene. It functioned as a Citgo for many years. The original Honest Measure gas pumps were being used in the early 1990s but they were later removed. [map]
former station
Mount Morris, NY
This appears to be a former station and garage with bays on the side street and a small, corner canopy. These photos are from 2005. By 2009, the corner had been walled up. [map]
Brussel's Thendara Garage
Thendara, NY
Brussel's Thendara Garage has been around since at least 1945. The building looks 1920s/1930s to me. The pumps and sign have been removed but the place continues its repair services as the Adirondack Garage. [map]
RoadsideArchitecture.com

Copyright. All photos at this website are copyrighted and may only be used with my consent. This includes posting them at Facebook, Pinterest, blogs, other websites, personal use, etc.

Tips & Updates. If you have suggestions about places that I haven't covered, historical info, or updates about places/things that have been remodeled or removed, I'd love to hear from you: roadarch@outlook.com.