(hit "refresh" to get the most recent version of this page; click on photos for larger images)
former Texaco station
Buffalo, NY
This former Texaco station still had the original stars and lettering above the bays when these photos were taken in 2010. The Pennzoil sign was added later. The gas pumps were removed. The building is now in use as a repair garage. By 2017, the building had been repainted and covered with siding. The stars and letters were removed. The building now houses the A&O Auto Repair Shop. [map]
former Texaco station
Elbridge, NY
This former Texaco station may be in bad shape but it still sports one Texaco star. These photos were taken in 2004 when the building appeared to be vacant. In 2018, the building was still vacant. [map]
former Texaco station
Painted Post, NY

This former Texaco station now houses Friendly Fred's, a repair garage. [map]
Five & Twenty Car Wash
Waterloo, NY
The Five & Twenty Car Wash appeared to be a repair shop when these 2010 photos were taken. The name comes from this former station's location on Routes 5 and 20. I believe this was an Amoco station originally. In 2013, the building appeared to be vacant. By 2016, the porcelain enamel panels had been removed. [map]
former Amoco station
Hartsdale, NY
former station
Silver Creek, NY
This former Amoco station in Hartsdale housed a Valero station and Accurate Auto Repair when this photo was taken in 2009. By 2014, it was a BP station. [map]

This former station in Silver Creek was probably an Esso originally. The pumps have been removed. The building housed a Hogg Dairy convenience store in recent years. It was vacant when this photo was taken in 2010. The building was still vacant in 2013. By 2018, the building had been faced with brick and was housing Overstocked. The building is vacant again. [map]
The tower on this former station looks like an Amoco detail. However, the building shape is unusual. This may have been a pre-existing station with an Amoco tower added during re-branding. [map]
former Gulf station
Kingston, NY
This former Gulf station has housed the Cake Box Bakery since 2001. For more, see this website. [map]
former station
Buffalo, NY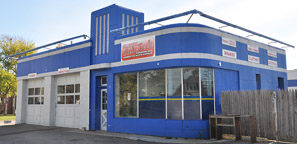 This former station was most likely an Amoco originally. The building housed Delaware Auto Tech when this photo was taken in 2010. The pumps had been removed. In 2012, the building was vacant. By 2016, the building had been painted beige and was housing a used car dealership. The building was vacant in 2017. Another used car dealership had moved in by 2018. [map]
former Sears station [gone]
Rome, NY
This former Sears station was built in 1938 and was demolished sometime after 1983. It was also known as the J&B station which is a reference to its location at James and Bloomfield Streets. For more, see this website.

There were six stations built, from Herkimer to Syracuse, in this Art Deco style. There was one in New Hartford, NY but it was demolished in 1988. Part of this building was salvaged by the New York State Museum in Albany, NY. The only Art Deco Sears station that survives is the one in Oneida described below.
former Sears station
Oneida, NY
This former Sears station was built in 1941. The building was empty and its fate was uncertain in 2003 when the top two rows of photos were taken. By 2010, bottom photos, the station had been repainted and was housing Finishline Autos. The Sears letters have been removed from the doors. There was originally a sign tower above the office door like the one shown in the vintage photo of the Rome station above. For an earlier Sears station, see this page. [map]
Hubertus Service Station
Canisteo, NY
The Hubertus Service Station was built around 1949 as a Mobil station. It replaced a canopy style station from around 1941. This station still sells gas but is now independently-owned, with a big modern canopy out front. The glass block counter is original as is most of the interior. [map]
Mobil station
Machias, NY

This Mobil station still has a round canopy. The cylindrical, silver pumps were replaced with modern pumps. For more about these stations, see this page. [map]
former Sunoco station [gone]
Perth, NY

This former Sunoco station featured most of its original signage. The front part of the caduceus sign was missing. By 2014, this building was demolished and replaced with a much larger Sunoco station.
former Esso station
Rochester, NY
This former Esso station housed a Sunoco station when these photos were taken in 2010. I believe Esso is the only brand that used this shape pylon with clocks. These stations were built from 1947-1948. Here's a similar looking, vintage photo of an Esso station in Irwin, PA. By 2014, this building had been repainted beige and it was housing a Racetrac station. The clock still remains. [map]
RoadsideArchitecture.com

Copyright. All photos at this website are copyrighted and may only be used with my consent. This includes posting them at Facebook, Pinterest, blogs, other websites, personal use, etc.

Tips & Updates. If you have suggestions about places that I haven't covered, historical info, or updates about places/things that have been remodeled or removed, I'd love to hear from you: roadarch@outlook.com.