(hit "refresh" to get the most recent version of this page; click on photos for larger images)
This is an archived section. It is no longer linked to the Home Page of my website. Too many sections, too many topics pulling me in different directions. I will leave this section here for folks that are interested in kiddie rides. But I won't be actively updating or adding things to this section.
Memphis Kiddie Park
Brooklyn, OH
The Memphis Kiddie Park opened in 1952. In addition to the original Herschell kiddie rides, there is a Herschell carousel. The Little Dipper roller coaster, also manufactured by Herschell, is the oldest operating steel roller coaster in North America. The Park also has a miniature golf course. For more, see these websites: 1, 2, 3.
Little Amerricka
Marshall, WI
Little Amerricka, also known as Little A-Merrick-A, opened in 1991. It features a wonderful collection of kiddie rides and bigger-kid rides as well. Most of the kiddie rides and the carousel are from Herschell. The 1940s firetruck ride was built by the Pinto Brothers Company. These rides all came from other parks. There are also go-karts and a mini golf course. For more, see these websites: 1 and 2.
Como Town has a few old kiddie rides as well as some newer ones. For more, see their website.
Castle Park
Riverside, CA
Conneaut Lake Park
Conneaut Lake, PA
Conneaut Lake Park has quite a few old Herschell kiddie rides. Many of them came from other amusement parks in Pennsylvania. Included among the kiddie rides are boats, dune buggies, sky fighters, ponies, tubs, Jeeps, a Jolly Caterpillar, a Little Dipper roller coaster, a kiddie carousel, and a mini train. For more, see these websites: 1 and 2. [first photo thanks Gary Swilik; other photos thanks Lisa Rawson]
Oaks Park has a few kiddie rides. The old kiddie fire engine is on display. For more, see their website.
Tuscora Park
New Philadelphia, OH
Tuscora Park features several vintage kiddie rides in addition to a vintage carousel.
York's Wild Kingdom
York Beach, ME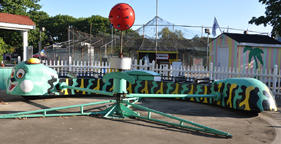 York's Wild Kingdom kiddie boats and a kiddie ferris wheel in addition to this Caterpillar. There is also a carousel and other rides, as well as animals. For more, see their website.
RoadsideArchitecture.com

Copyright. All photos at this website are copyrighted and may only be used with my consent. This includes posting them at Facebook, Pinterest, blogs, other websites, personal use, etc.

Tips & Updates. If you have suggestions about places that I haven't covered, historical info, or updates about places/things that have been remodeled or removed, I'd love to hear from you: roadarch@outlook.com.