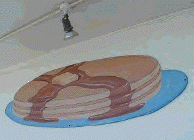 Anthony's Carryout Shop opened as a Tastee-Freez in 1954. Around 2004, the sign was replaced with a new one (first photo 2001; second photo 2005). [map]
Magic Wand Drive-in
Churubusco, IN
It appears that the Magic Wand Drive-in was originally a Tastee-Freez. Either that, or the building style was copied significantly. It has been the Magic Wand for many, many years. This drive-in had car hops at one time. [map]
Sherald's Burger Bar (now Sherald's Frosty Freeze)
Price, UT
2008:
2014:
Sherald's Burger Bar is another former Tastee-Freez. In the 1960s, it was known as Claire's Tastee-Freeze. It had been Sherald's Burger Bar since at least the late 1960s. In 2014, the name was changed to Sherald's Frosty Freeze. The building was painted and the sign reworked at that time. [map]
former Tastee-Freez [gone]
Tulsa, OK

2006: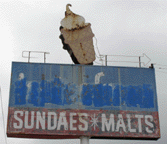 This Tastee-Freez opened around 1954. This location probably had a rooftop sign originally. I have not seen a Tastee-Freez pole sign with a cone before. In 2006, I was told that this former sign was about to be renovated with the help of a Route 66 organization. The new sign was to read "Mister Freez". However, that never happened. By 2008, the building housed a Mexican restaurant. By 2009, the building and sign were adapted for a used car place. By 2014, the sign was still there but the building had been demolished. By 2015, the cone had been removed from the top of the sign. For more, see this website.
former Tastee-Freez [gone]
Tulsa, OK
This former Tastee-Freez housed Bill & Ruth's Sandwich Shop in recent years. The building was vacant when these photos were taken in 2011. By 2016, the building had been repainted. In 2018, it was still vacant. In 2019, the building was gone.
Happy Burger was built in 1957 as a Tastee-Freez. The stand has been Happy Burger since 1974. Around 2021, the corrugated plastic panels on top of the sign were replaced with new ones. The signs were also repainted a darker blue. [map]
former Tastee-Freez [gone]
Pensacola, FL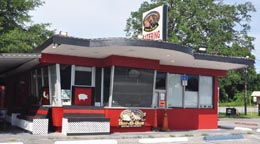 This former Tastee-Freez was built in 1956. The building last housed Arlene Williams BBQ. It was demolished around 2020.
RoadsideArchitecture.com

Copyright. All photos at this website are copyrighted and may only be used with my consent. This includes posting them at Facebook, Pinterest, blogs, other websites, personal use, etc.

Tips & Updates. If you have suggestions about places that I haven't covered, historical info, or updates about places/things that have been remodeled or removed, I'd love to hear from you: roadarch@outlook.com.