(hit "refresh" to get the most recent version of this page; click on photos for larger images)
Frosty Treat
Irving, NY
The Frosty Treat stand has a vestibule in front of the walk-up window. [map]
Owego Soft Serve
Owego, NY
Cindy's Drive-in
Granby, MA
The Owego Soft Serve opened in 1954, presumably as a Tastee-Freez. There is a mini golf course behind the stand. For more, see this website. [map]

Cindy's Drive-in occupies a former Tastee-Freez building. [map]
Footie's Freez
Cortland, NY
KB&B Dugout
Clarion, PA
Footie's Freez has an addition at the rear of this former Tastee-Freez building. [map]

The KB&B Dugout has somewhat altered the front end of the building. [map]
Custer City Drive-in
Custer City, PA
Ice Cream Time
Ypsilanti, MI
Mr. Cone
Chicopee, MA
Tastee Treet
Pocatello, ID
Mr. Cone occupies a former Tastee-Freez building. [map]

The Tastee Treet in Pocatello was also originally a Tastee-Freez. The building has either been drastically altered or rebuilt. This sign was originally displayed on the roof. It was obviously adapted for the name change. These photos are from 2014. By 2018, the sign on the ground had either been repainted or the top layer of paint removed to reveal the original name. For more, see these websites: 1 and 2. [map]
former Tastee-Freez
Boise, ID
This former Tastee-Freez now houses Fanci Freez. The sign boasts that it has been here since 1947. However, Tastee-Freez wasn't established until 1950. The owners don't know where the date came from either or when the business became Fanci Freez. Perhaps Fanci Freez was located elsewhere and then moved to this 1950s era building? Around 2006, the sign was repainted and an LED message board was added. These photos are from 2014. For more, see this website. [map]
former Tastee-Freez
Moses Lake, WA
This former Tastee-Freez has housed Woody's Drive-In since 1983. The sign was much nicer in the 1980s. [map]
former Tastee-Freez
Albuquerque, NM
This former Tastee-Freez has housed Juanita's Comida Mexicana since at least 2007. [map]
De Witt Dairy Treats
De Witt, IA
Union Station
La Porte City, IA
De Witt Dairy Treats is a former Tastee-Freez with a repainted sign. By 2013, the rooftop sign read "Cups & Cones". The ice cream cone sign was still there. [map]

Union Station is another former Tastee-Freez. It was known as Tastee Treats until 2009. This photo is from 2009. The building now houses Tootsie's Ice Cream & More. [map]
Dixie Soft Serve
Monroe, MI
Miller's Five Drive-in
Augusta, KS
The Dixie Soft Serve occupies a former Tastee-Freez building. The freestanding sign is unusual though. [map]

The Miller's Five Drive-in was originally a Tastee-Freez. It has been Miller's since 1964. [map]
Pirate's Cove Seafood & Ice Cream
Northbridge, MA
S&K Dairy Cup
Hillsboro, OH
Pirate's Cove Seafood & Ice Cream occupies a former Tastee-Freez stand. It has been Pirate's Cove since 1996. [map]

The S&K Dairy Cup has occupied this former Tastee-Freez since around 2009. Before the S&K, it was known as the Fiftee-Freez. By 2021, it was known as the 50 Freeze Dairy Bar. For more, see this website. [map]
Whipple Dari Drive-In
Canton, OH

2007: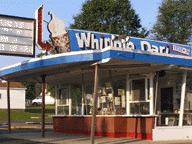 2012:
The Whipple Dari Drive-In occupied a former Tastee-Freez stand in 2007. It housed the Cruise-In from 2007-2011. The building was still vacant in 2016 and the rooftop sign was gone. By 2019, the building was housing Hot Wasabi Hibachi Express. [map]
Hovermale's Tastes Best
Fort Washington, MD
Glenn's Tastee-Freez
Wilkesboro, NC
Hovermale's Tastes Best was originally a Tastee-Freez. Their sign claims "since 1954" but I don't know which name it went by at that time. The stand was just closed for the season when this photo was taken in 2010. [map]

Glenn's Tastee-Freez building has the slanted pole design. Instead of two poles, these buildings had three. These buildings are wider with larger canopies. Although the sign no longer reads Tastee-Freez, everyone in town knows it as that. For more, see this website. [map]
Frostburg Freeze
Frostburg, MD

The Frostburg Freeze was originally a Tastee-Freez. It was built in 1954. It became the Frostburg Freeze in the 1970s. [map]
Tastee-Freez
Spring Valley, IL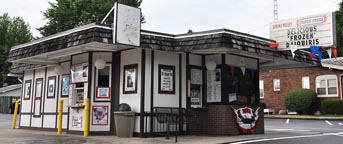 This Tastee-Freez was probably built in the 1950s. It has obviously been remodeled quite a bit. The plastic sign on the right is probably from the 1960s or 1970s. The neon sign on the left is probably newer than that. [map]
RoadsideArchitecture.com

Copyright. All photos at this website are copyrighted and may only be used with my consent. This includes posting them at Facebook, Pinterest, blogs, other websites, personal use, etc.

Tips & Updates. If you have suggestions about places that I haven't covered, historical info, or updates about places/things that have been remodeled or removed, I'd love to hear from you: roadarch@outlook.com.