(hit "refresh" to get the most recent version of this page; click on photos for larger images)
Tastee-Freez started selling soft-serve ice cream in 1950 in Joliet, IL. The company had 1,600 locations by 1965. There are now locations in 36 states. Most of the early walk-up stands were remodeled and have become full-scale fast food restaurants. For more about Tastee-Freez, see these websites: 1 and 2.
Tastee-Freez
Moorhead, MN
former Tastee-Freez
Berwyn, IL
The Moorhead location opened in 1963. [map]

This photo of the Berwyn location was taken in 2009. In 2016, the stand became The Freeze. The rooftop sign was painted over and the neon sign in the window had the Tastee-Freez text removed. [map]
former Tastee-Freez
West Chicago, IL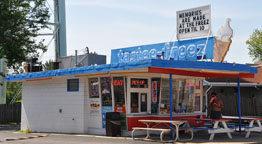 This West Chicago location was built in 1955. In 2017, the Tastee-Freez lettering on the rooftop sign was covered up. By 2018, the stand had reopened as The Freeze. By 2021, the business had become Jalapeno Burgers and the sign was repainted. [map]
Tastee-Freez
Chicago, IL
2001:
2010:
This Chicago location has gone through some significant changes in recent years. The walk-up window portion of the building was enclosed by 2007. The rooftop sign disappeared sometime after that. By 2014, the business was known as D&D's Place. For more, see this website. [map]
former Tastee-Freez
Chicago, IL
Shelly's Freeze (now Rainbow Tacos)
Chicago, IL
The Chicago location shown on the left above evidently had a rooftop sign originally. This pole sign was a later addition. I believe this stand was built in 1951. In 2016, this stand became The Freeze and the sign panel was changed. [map]

Shelly's Freeze was housed in a former Tastee-Freez for many years. Around 2021, the building began housing Rainbow Tacos. [map]
former Tastee-Freez
Vista, CA
This former Tastee-Freez was built in 1953. It has been the Peppertree Frosty since 1960. This plastic cone sign is probably from the late 1950s or 1960s. [map]
former Tastee-Freez
Long Beach, CA
2008:
2016:
This former Tastee-Freez housed Carmen's Kitchen in 2008. By 2011, the building was housing Taqueria La Mexicana #5. In 2016, the ice cream sign was removed. [map]
former Tastee-Freez
Baldwin Park, CA
2013:
2021:
This former Tastee-Freez has housed Linda's Burger since at least the 1990s. Around 2017, the rooftop sign was replaced. This plastic cone was replaced with a flat graphic cone. [map]
Jim's Tastee-Freez
Delmar, NY
former Tastee-Freez (now Rockingham Dairy Freez)
Davenport, IA
This Tastee-Freez was built in 1954 and was the last operating Tastee-Freez in Iowa. The neon signs were lit at night. These photos are from 2010. This place closed in 2011 and the signs were removed. In 2012, it reopened as the Rockingham Dairy Freez. For more, see these websites: 1, 2, 3, and 4. [map]
Tasty Freeze
Marshalltown, IA
This Tastee-Freez was renamed and the sign was reworked slightly to read "Tasty Freeze". In 2018, the rooftop sign was covered up. [map]
Uncle Ken's [gone]
Willimantic, CT
Albone's Double Dips
Medina, NY
Uncle Ken's, a former Tastee-Freez, was here for many, many years. The building and sign were demolished in 2006.

Albone's Double Dips would have had a classic neon rooftop sign when it was originally a Tastee-Freez. Since this 2010 photo, the stand has been renamed Silsby's Double Dips and the sign was replaced. [map]
former Tastee-Freez
Coraopolis, PA
ca. 2001:
2012:
This Coraopolis location was still a Tastee-Freez around 2001. By 2008, the plastic panels had been changed to "Shake & Twist". By 2015, the panels had been covered over and the place was known as Gibby's. In 2020, it became La Poblanita Ice Cream. The sign was covered up with a vinyl tarp and the plastic cone was removed. [map]
Frey's Tasty Treat
Lockport, NY
former Tastee-Freez
McKees Rocks, PA
The original Tastee-Freez building at Frey's Tasty Treat was widened at some point. New signs were intalled on the roof around 2020. [map]

This former Tastee-Freez in McKees Rocks now houses Tastee Shakes. [map]
Tastee Treet
Sparta, WI

2007:
2012:

The Tastee Treet occupied a former Tastee-Freez building. The signs had been altered when the first two photos above were taken. By 2012, the signs had been removed and the building was repainted. The building now houses Taco Paisa. [map]
RoadsideArchitecture.com

Copyright. All photos at this website are copyrighted and may only be used with my consent. This includes posting them at Facebook, Pinterest, blogs, other websites, personal use, etc.

Tips & Updates. If you have suggestions about places that I haven't covered, historical info, or updates about places/things that have been remodeled or removed, I'd love to hear from you: roadarch@outlook.com.