(hit "refresh" to get the most recent version of this page; click on photos for larger images)
GD Burgers
La Puente, CA
The GD Burgers building was built in 1965. It looks a bit like a Mister Swiss. However, the roof slopes too dramatically in back for that. Does anyone know what this building housed originally? [map]
Mr. Ed's Liquor Store
Pico Rivera, CA
Lucky Star Chinese
Wilmington, CA
Mr. Ed's Liquor Store was probably always a liquor store but I'll include it here anyway. The building was constructed in 1962. Does anyone know what the original tenant of this building was? [map]

The Lucky Star Chinese restaurant appears to be from the 1960s. Does anyone know what this building housed originally? [map]
Cedar Market
Fresno, CA
T&M Pizza
Coolidge, AZ
The Cedar Market previously housed Kim's Food Market. Earlier, it housed a Subway restaurant. I've been told that this was previously a Kentucky Fried Chicken. If so, that was most likely not the original tenant. Does anyone know more about this building? [map]

This T&M Pizza building doesn't match up with any other A-frame fast food places that I'm familiar with. Mr. Swiss and Griff's buildings did not have spider legs. The building is too small to have been built as a Heap Big Beef or IHOP. It's not a Tastee-Freez design. I'm told that there was originally a BK Root Beer here in the late 1950s. However, BK did not build A-frames. This building must have been constructed after the BK. Although there is a repurposed Dairy Queen sign here, this building was not built as a DQ. Dairy Queen only built A-frames in Florida and they did not have legs. I have also heard that there was a Frog's restaurant here at some point. Does anyone know what business built this A-Frame? [map]
Thai Food Store & Gifts
Altus, OK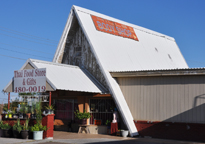 The Thai Food Store & Gifts has occupied this building since at least 2008. I don't know what was here originally. I'm assuming that it was a restaurant. [map]
Rocket Restaurant
Pontiac, MI
It appears from the design of the building and sign that this Rocket Restaurant was originally a Winky's, a chain established in 1962 in the Pittsburgh area. However, I believe the locations were only in Pennsylvania, Ohio, and West Virginia. The chain went bankrupt in 1982. Does anyone know if this was always known as the Rocket Restaurant or if there were other locations like this? [map]

Two repurposed Winky's signs survive in Pittsburgh, PA and Ellwood City, PA. A remaining Winky's building in Weirton, WV was remodeled beyond recognition in 2012.
RoadsideArchitecture.com

Copyright. All photos at this website are copyrighted and may only be used with my consent. This includes posting them at Facebook, Pinterest, blogs, other websites, personal use, etc.

Tips & Updates. If you have suggestions about places that I haven't covered, historical info, or updates about places/things that have been remodeled or removed, I'd love to hear from you: roadarch@outlook.com.