(hit "refresh" to get the most recent version of this page; click on photos for larger images)
Chip's started out as a Southern chain with headquarters in Rocky Mount, NC. The Chip's building design was trademarked in 1964. There were approximately 150 locations built. When Chip's filed for bankruptcy in the mid-1960s, the company sold its franchising rights to a company in Wisconsin. There are still two remaining locations operating in that state. Chip's Durham and Raleigh buildings were taken over by Hardee's in the late 1960s.

Chip's apparently promoted the pairing of their restaurants with Arnold Palmer mini golfs. I'm not sure how many, if any, of these dual franchises were built. (scan thanks Robby Delius]
Chip's
Wisconsin Rapids, WI
This Chip's opened in 1971. The sign features a small graphic of the Chip's character. Chip's used him in advertising and produced fiberglass statues of this guy. There was originally a different sign at this location. [map]
This Chip's opened in 1969. The letters on the roof are part of the original building design. The pole sign shown in the photos above from 2011 originally advertised for Wausau Homes. The sign shop had it on hand and adapted it for Chip's. The "WH" raised letters are still visible. By 2018, those panels were destroyed in a tornado. The sign was replaced with modern flat panels. [map]
Chip's barn sign
Merrill, WI
This painted barn sign advertised for Chip's. It is located on a farm south of town. [map]
former Chip's
Johnson City, TN
This Johnson City building was a very intact former Chip's. When these photos were taken in 2007, the building was vacant. The red, white and blue tilework was original as well as the "Hamburgers" signage and trash cans. The outer walls were added later when the location upgraded from a walk-up location to offer indoor seating. By 2012, the building had been remodeled almost beyond recognition. A second story had been added to the front of the building. It now houses Shelton Tile & Laser Design. [map]
former Chip's
Orlando, FL
2005:
2009:
2021: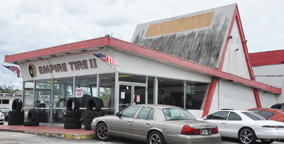 This former Chip's opened in 1964 as the fifth location in Florida. The building has housed Empire Tire since at least 2005. [map]
Astra Cleaners
Hazlet, NJ
Astra Cleaners must have been a former Chip's. [map]
former Chip's
Raleigh, NC
In recent years, this former Chip's has been a pizza shop and a car wash. In 2008 (top photos), it was home to Stop & N Go Auto Parts. By 2010 (bottom photos), the building housed Lobos Auto Service. The canopy was probably not part of the original design. It may have been added by Hardee's or another business at a later time. [top photos thanks Robby Delius] [map]
Ed's In-Town Deli [gone]
Mocksville, NC
Ed's In-Town Deli occupied this former Chip's when these photos were taken in 2010. The building in front of the A-frame had obviously been expanded. By 2014, the building was either entirely gone and rebuilt or remodeled without a trace of the original building. The sign is also gone.
L.A. Cafe & Java
Waterford, MI
The L.A. Cafe & Java occupies a former Chip's. I don't know of any other Chip's buildings in Michigan. [map]
Tasty Carry Out
Capitol Heights, MD
former Chip's [gone]
Milwaukee, WI
The Tasty Carry Out occupies a former Chip's. [map]

This former Chip's in Milwaukee recently housed Judy's Vienna Red Hots. The original Chip's sign had been repurposed. Judy's closed around 2009. In 2011 when this photo was taken, the building was occupied by NNR Tobacco and the sign was gone. By 2014, the occupant was 27th St. Tobacco & Wireless. The building was still there in 2018 but gone by 2019. For more, see this website.
La Fonda
Fort Payne, AL
It is believed that this La Fonda restaurant was built as a Jack's restaurant. The current owners believe it was built in the early 1950s. However, A-frame fast food restaurants don't really begin to appear until the late 1950s. The lettering on this freestanding sign was changed with the name change. It was adapted later for its current occupant, Mr. Taco.

The design of this building is quite similar to the Chip's chain shown above. Even the diamonds used in the sign are similar to those used by Chip's. Since there are the same number of letters in Chip's and Jack's, that doesn't help solve this mystery. It appears that this canopy roofline did not extend all the way back like the Chip's buildings. Also, I have not seen multi-colored plastic windows on the side of the A-frame like those on this building and the location described below. [map]
Big Chief Drive-in
Glencoe, AL
This Big Chief Drive-in is also believed to have originally been a Jack's restaurant. It was built with the same plans as the one in Fort Payne and operated by a relative. It has been around since at least 1965. For more, see these websites: 1, 2, and 3. [map]
RoadsideArchitecture.com

Copyright. All photos at this website are copyrighted and may only be used with my consent. This includes posting them at Facebook, Pinterest, blogs, other websites, personal use, etc.

Tips & Updates. If you have suggestions about places that I haven't covered, historical info, or updates about places/things that have been remodeled or removed, I'd love to hear from you: roadarch@outlook.com.