(hit "refresh" to get the most recent version of this page; click on photos for larger images)
Moosic Diner [gone?]
Moosic, PA
The Moosic Diner was housed in a 1955 Mountain View when these photos were taken in 2010. The diner was previously named Charge's Diner. The Moosic closed in 2013 and the diner became Big Earl's. In 2019, the diner was removed from its foundation and put up on blocks at the back of the property in preparation for the Cucina Rinaldi which was built at the site. The diner was put up for sale. I don't know if it was sold, destroyed, or if it is still there. [map]
former Transit Diner
Morrisville, PA
The former Transit Diner is a 1941 Silk City. It has been used by HL's Live Bait & Tackle for many years. These photos are from 2009. By 2013, the diner had been covered with siding. [map]
Hill's Quality Seafood
Newtown Square, PA
The Hill's Quality Seafood is a Mountain View from around 1952. This was originally the Greenhill Diner. Hill's has been here since 1986. [map]
Joe Phillips' Gateway Diner [gone]
Norristown, PA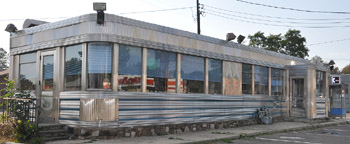 Joe Phillips' Gateway Diner is a 1949 Fodero. It has been closed since 2006. In 2012, it was announced that a Wawa convenience store would be built on the site. By 2013, development had begun and the diner was demolished.
Miss Oxford Diner
Oxford, PA
The Miss Oxford Diner is a Silk City (#5465), built in 1954. It replaced a 1940s Mountain View at the same location. It closed in 1986, but was restored and reopened in 1994. [map]
Vale-Rio Diner [gone]
Phoenixville, PA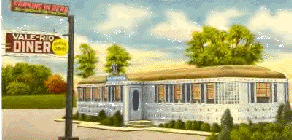 The Vale-Rio Diner is a Paramount diner from 1948. It has unusual disc patterns on its stainless-steel exterior. The 11th Street Diner in Miami Beach, FL has the same pattern. This diner's name was based on the owners' last name, Valerio. After these photos were taken in 2007, the diner's roof and parking lot were painted shocking pink. The diner closed in 2008 and was stored on the owner's property after that (bottom photo). In 2017, the diner was sold and moved to private property. For more, see these websites: 1 and 2.
RoadsideArchitecture.com

Copyright. All photos at this website are copyrighted and may only be used with my consent. This includes posting them at Facebook, Pinterest, blogs, other websites, personal use, etc.

Tips & Updates. If you have suggestions about places that I haven't covered, historical info, or updates about places/things that have been remodeled or removed, I'd love to hear from you: roadarch@outlook.com.