(hit "refresh" to get the most recent version of this page; click on photos for larger images)
Mayfair Diner
Philadelphia, PA
The Mayfair Diner opened in 1932 with a 1928 O'Mahony which was known as the Morrison and Struhm Diner. In 1954, the Mayfair tripled in size when that diner was replaced with this extra-long (118 feet) O'Mahony. The interior was remodeled in the mid-1980s. In 2010, a structure was added to the roof (bottom row of photos). Some interior renovations were made as well at that time. For more, see this website. [map]
Melrose Diner
Philadelphia, PA

2009:

2012:
The Melrose Diner first opened in 1935. It was replaced with another diner in 1940. In 1956, the restaurant moved to a new location and installed this Paramount diner. This sign was built then by Penn Neon Signs. In 2010, a new roof structure was added to the diner and the lettering on the building was removed. For more, see this website. [map]
Trolley Car Diner
Philadelphia, PA



The Trolley Car Diner is a 1951 Mountain View (#315). It was previously known as the Diamond City Diner and later as Palooka's Diner when it was located in Wilkes-Barre, PA. The diner was moved here and opened in 2000. It was installed on the site of a former Roy Rogers which was gutted and turned into a kitchen, dining room and bathroom addition to the diner. The diner was named for its location next to a former trolley car line. In 2019, the diner closed. In 2021, plans were moving forward to develop the property for an apartment development. It's not yet known if the diner will be saved.

The owners added a restored 1948 streetcar to the property and converted it into an ice cream stand. The trolley car was donated to the Fishtown Kensington Business Improvement District which will continue to it as an ice cream stand. It will be moved and installed near The Fillmore music venue in 2021. The diner's 42-foot-long neon sign was built by Len Davidson. It is the largest animated neon sign in the Philadelphia area. It features spinning wheels and, when the traffic light changes, the doors open and close to reveal a driver and an exiting passenger. In 2021, the sign was removed and put in storage. For more, see these websites: 1, 2, and 3. [map]
Continental Restaurant
Philadelphia, PA
The Continental Restaurant occupies a 1963 Fodero. It has always been at this location. In 1999, the diner was transformed into a hip restaurant and martini bar. The dice-like sign on the roof was part of the original diner. The first photo of the sign is from 2001 before it was updated. The second photo of it is from 2012. [map]
Steak and Bagel Train
Philadelphia, PA

2007: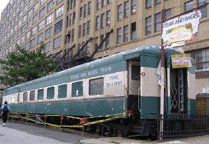 2009:
Although this is not a diner, I'll include it here anyway. The Steak and Bagel Train was originally a Reading Lines dining car. It has been here since at least the late 1990s and has been closed for many years. According to a sign in 2007, it was to reopen as Ray's Philly Cheese Steak. However, I don't believe that ever happened. Work appeared to be going on in 2009 and it was open in 2010 and 2011. However, by 2014, the place was vacant again. In 2017, the dining car was surrounded by chain link fencing. It was announced that it would be converted into a welcome center for Philly's Rail Park. Nothing had happened yet with the dining car in 2021. For more, see these websites: 1 and 2. [map]
Silk City Diner
Philadelphia, PA

The Silk City Diner is now a restaurant and bar. It was built by Silk City (#5907) in 1959. The diner was previously known as the American Diner and Dee Dee's Diner. It was moved here in the mid-1960s. [map]
Bob's Diner
Philadelphia, PA
RoadsideArchitecture.com

Copyright. All photos at this website are copyrighted and may only be used with my consent. This includes posting them at Facebook, Pinterest, blogs, other websites, personal use, etc.

Tips & Updates. If you have suggestions about places that I haven't covered, historical info, or updates about places/things that have been remodeled or removed, I'd love to hear from you: roadarch@outlook.com.