(hit "refresh" to get the most recent version of this page; click on photos for larger images)
The Summit Diner is a 1960 Swingle. For more, see these websites: 1, 2, and 3. [map]
Gatto Cycle Diner
Tarentum, PA
The Gatto Cycle Diner is an O'Mahony from 1946. It was previously known as Digger's Diner and located in Butler, PA. It was then abandoned, gutted and nearly destroyed before being saved in 1990. The diner was restored and moved here in 1993 and is owned by the Gatto Cycle motorcycle business nearby. It now houses Clark's Cycle Diner. For more, see this website. [map]
Ingleside Diner [gone]
Thorndale, PA
The Ingleside Diner, originally Zinn's Diner, was a 1956 Fodero. This large L-shaped diner arrived in seven pre-built sections. It was owned by Christian Zinn who had two other diners already in the area (Zinn's Diner and the Town Diner). In 1966, this diner was sold and renamed the Ingleside Diner. The downstairs banquet room was still called the "Zinn Room". The diner sat 99 (83 in booths/tables, 16 at stools). The diner closed in late 2001 and was sold in 2003. A Wawa convenience store was built on its former site. There were plans to move this diner to St. Louis, MO in 2004. However, it was left to rot beyond repair in Lancaster, PA.
Red Rose Diner
Towanda, PA
The Red Rose Diner is a Tierney (#1215) from 1927. Gordon Tindall found the diner in Stroudsburg, PA in 1998 and moved it to Lancaster, PA where he restored it. The diner was previously known as Jerry's and the Lackawanna Trail Diner. It reopened here in 2003. It closed in 2017 and remains vacant. In 2021, the diner was painted green. For more, see these websites: 1 and 2. [map]
Llanerch Diner
Upper Darby, PA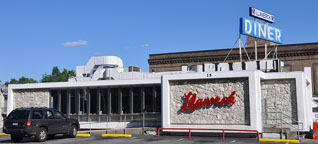 The Llanerch Diner is a Swingle diner from 1968. An O'Mahony diner was installed here in 1952. It was destroyed in a fire but the sign was saved and reinstalled on the roof of this diner. [map]
Wellsboro Diner
Wellsboro, PA
The Wellsboro Diner is a Sterling diner, produced by the J.B. Judkins Co. (#388) in 1938. For more, see these websites: 1 and 2. [map]
D-K Diner
West Chester, PA
The D-K Diner is a Mountain View (#361) from 1947. [map]
Lee's Diner is a Mountain View (#301) from 1953. The diner was completely restored in 2003. In 2019, it opened briefly as Vicky's Diner. Later in 2019, it opened for three months as the US 30 Diner. The diner is currently vacant. The red pole sign is gone but the black pole sign remains. [map]
Books:
Diners of Pennsylvania, Brian Butko & Kevin Patrick, 1999
RoadsideArchitecture.com

Copyright. All photos at this website are copyrighted and may only be used with my consent. This includes posting them at Facebook, Pinterest, blogs, other websites, personal use, etc.

Tips & Updates. If you have suggestions about places that I haven't covered, historical info, or updates about places/things that have been remodeled or removed, I'd love to hear from you: roadarch@outlook.com.