(hit "refresh" to get the most recent version of this page; click on photos for larger images)
Jack's Hollywood Diner
Hollywood, FL
Jack's Hollywood Diner is a Mountain View (#328) from 1953. It was originally known as Freddie's Diner. [map]
Kappy's Subs
Maitland, FL
Kappy's Subs is housed in a Valentine diner from 1964. It originally housed a Whataburger which closed in 1966. Since 1967, the diner has housed Kappy's Subs. [map]
11th Street Diner
Miami Beach, FL

2020:
2021:

The 11th Street Diner is a Paramount from 1948. It opened here in 1992. It was originally located in Wilkes-Barre, PA where it was known as the Olympic Diner. [map]
former Mignonette
North Miami, FL
Mignonette was housed in a modern diner. It was built by Paramount Modular Concepts in 1994 for Hannah's Gourmet Diner which closed around 2015. Mignonette opened there in 2017 and closed after only a few months. The diner has been vacant since then. [map]
Angel's Diner
Palatka, FL
Angel's Diner opened in 1932 as Angel's Dining Car. Not a "true" prefabricated, shipped-to-site diner, this was originally a railroad dining car. For more, see these websites: 1 and 2. [map]
St. Pete Beach:
Pelican Diner [in storage] [photo thanks Mark Comstock]
Gator's Corner
St. Petersburg, FL
Gator's Corner is housed in an O'Mahony diner from around 1954. The last long-term restaurant use was as Shirley's Soul Food. It housed Gator's Corner, a thrift store, since around 2016. It appeared to be closed in 2020. The interior was jammed full of stuff, making it look more like a storage unit than a store. For more, see this website. [map]
Nicko's Diner
Tampa, FL

2009:
2020:
Nicko's Diner is an O'Mahony from around 1952. It was originally known as Ayer's Diner. It became Nicko's in 1980. In 2018, it began housing the Chop Chop Shop. [map]
Lucky Dog Diner
Venice, FL

2020: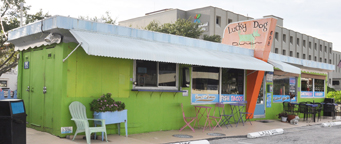 2021:
The Lucky Dog Diner was housed in a Valentine diner from 1955. It closed in 2020. It was originally known as the Bel-Bree Diner. After that, it was known as Uncle B's Coney Dogs and Toni's Place. For more, see this website. [map]
RoadsideArchitecture.com

Copyright. All photos at this website are copyrighted and may only be used with my consent. This includes posting them at Facebook, Pinterest, blogs, other websites, personal use, etc.

Tips & Updates. If you have suggestions about places that I haven't covered, historical info, or updates about places/things that have been remodeled or removed, I'd love to hear from you: roadarch@outlook.com.