(hit "refresh" to get the most recent version of this page; click on photos for larger images)
Chidsey Library
Sarasota, FL
The Chidsey Library was designed by the Martin Studio of Architecture and built in 1941. The building operated as a library until 1976. It now houses the Friends of the Sarasota County History Center. [map]
Municipal Auditorium
Sarasota, FL
Bayfront Community Center
Sarasota, FL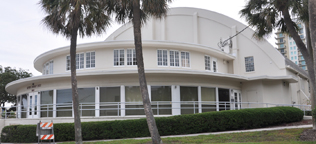 The Municipal Auditorium was built in 1937 as a WPA project. It was designed by Thomas Martin. It was restored 1992-1997. The fountain, shown in the second row above, was designed by Frank Marin and built by Louis Larsen. The building is listed on the National Register of Historic Places. It now hosts a variety of events including antique shows, arts and crafts shows, banquets, computer shows, flea markets, film festivals, etc. For more, see this website. [map]

The Bayfront Community Center is located on the backside of the Auditorium building. It was designed by designed by Thomas Reed Martin and Clarence A. Martin and built in 1940. [map]
Central Fire Station
Sebring, FL
The Central Fire Station was designed by William J Heim and built in 1927. The building is listed on the National Register of Historic Places. For more, see this website. [map]
Glory Apartments
St. Petersburg, FL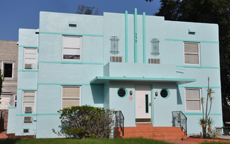 The Glory Apartments building was built in 1939. [map]
Fire Station #4
St. Petersburg, FL

Fire Station #4 was built in 1947. [map]
9024 Collins Ave.
Surfside, FL
9340 Collins Ave.
Surfside, FL
The apartment building at 9024 Collins Ave. was built in 1946. In the 1960s, it was known as the Town & Surf Apartments. I don't know if that was the original name. [map]

The apartment building at 9340 Collins Ave. was built in 1940. The building has been vacant since around 2015. It was known as the Bougainvillea Apartments but I don't know if that was the original name. [map]
George Firestone Building [gone]
Tallahassee, FL
The George Firestone Building was built in 1936 as the Old Leon County Jail. It was designed by M. Leo Elliott. It was demolished in 2019. For more, see this website.
Leon County Health Unit
Tallahassee, FL
Tampa Linen Service
Tampa, FL
The Leon County Health Unit was built from 1939-1940 as a WPA project. it is listed on the National Register of Historic Places. For more, see this website. [map]

The Tampa Linen Service building was built in 1949. It now houses ALSCO, a linen and uniform rental company. [map]
Cuscaden Park Swimming Pool
Tampa, FL
The Cuscaden Park Swimming Pool was built in 1937 as a WPA project. [map]
Kingham Building
Winter Haven, FL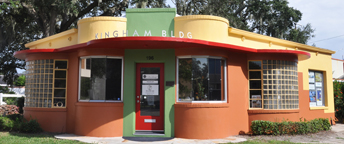 The Kingham Building appears to be a Streamline Moderne building from possibly the 1940s. However, the only information I can find about it indicate that it was built in 1967. Does anyone know the history of this one? [map]
RoadsideArchitecture.com

Copyright. All photos at this website are copyrighted and may only be used with my consent. This includes posting them at Facebook, Pinterest, blogs, other websites, personal use, etc.

Tips & Updates. If you have suggestions about places that I haven't covered, historical info, or updates about places/things that have been remodeled or removed, I'd love to hear from you: roadarch@outlook.com.