(hit "refresh" to get the most recent version of this page; click on photos for larger images)
This page is a "Then and Now" collection of linen postcards from the 1930s/1940s and recent photos. The next page shows some other Miami Beach Deco hotels.
Shepley Hotel (now The Beachcomber)
The Beachcomber Hotel was built in 1938 as the Shepley Hotel. This photo is from 2005. Around 2015, the hotel was renamed the Shepley Hotel. [map]
Carlton Hotel
The Carlton Hotel was built in 1938. [map]
Fairmont Hotel (now Fairwind Hotel)
The Fairmont Hotel opened in 1939. It was designed by L. Murray Dixon. The building is known known as the Fairwind Hotel and also houses the Fairwind Cafe and Bar. [map]
Century Hotel
The Century Hotel was designed by Henry Hohauser and built in 1939. For more, see this website. [map]
Avalon Hotel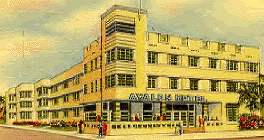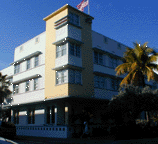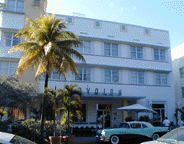 The Avalon Hotel was built in 1941. [map]
Miljean Hotel
The Miljean Hotel was built in 1940. [map]
Albion Hotel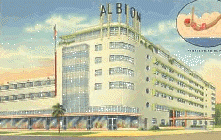 The Albion Hotel opened in 1939. It was designed by Igor Polevitsky who is credited for inventing the Nautical Art Deco style. He is most famous for designing the Hotel Nacional in Havana. The Albion served as the headquarters for Abbie Hoffman and the Students for a Democratic Society during the 1972 Democratic National Convention in Miami. For more, see this website. [map]
Waldorf Towers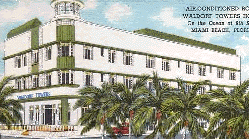 The Waldorf Towers were built in 1937. The building was designed by Albert Anis. In the early 1980s, its tower was deemed unsafe and nearly torn down. It was rebuilt in 1985. The interior features an incredible terrazzo floor, a molded ceiling and original lighting fixtures. For more, see this website. [map]
RoadsideArchitecture.com

Copyright. All photos at this website are copyrighted and may only be used with my consent. This includes posting them at Facebook, Pinterest, blogs, other websites, personal use, etc.

Tips & Updates. If you have suggestions about places that I haven't covered, historical info, or updates about places/things that have been remodeled or removed, I'd love to hear from you: roadarch@outlook.com.