(hit "refresh" to get the most recent version of this page; click on photos for larger images)
Coggin GMC-Pontiac
Jacksonville, FL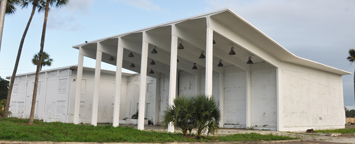 This former Coggin GMC-Pontiac dealership was built in 1969. I don't know if that was the original tenant. The property has been vacant since around 2008. In 2020, plans were announced to build a Circle K gas station and convenience store on the site. This photo is from 2021. [map]
former Tomlinson Cadillac
Lakeland, FL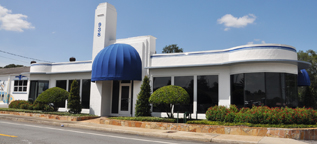 Tomlinson Cadillac occupied the first building shown above by 1946 and I believe that they were its original tenant. The building in the second photo was probably built before that. In 1980, Tinney Cadillac took over the location. In 2002, Boring Business Systems, now Boring IT & Print Solutions, moved in. The building in the bottom row is next door and was also part of the Tomlinson dealership. It may have been built at the same time. [map]
Sheehan Buick GMC
Lighthouse Point, FL

This building at Sheehan Buick GMC was built in 1966. [map]
Pomeroy Overland Building
Miami, FL
The Pomeroy Overland Building was built in 1927. It was a Willys-Knight and Whippet dealership. The building was restored in 2018. [map]
South Motors
Miami, FL
South Motors was established in 1956. I believe these three hexagonal buildings were built in 1962. These photos are from 2020. Two of the buildings were demolished in 2021. The only building that survives is the one on the left in the second photo. [map]
former Munroe-Zeder
Miami, FL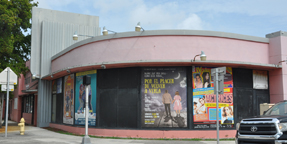 The Munroe-Zeder dealership was built in 1947, selling Chrysler and Plymouth cars. The building now houses Teatro 8, a Spanish-language live performance venue. For more, see this website. [map]
former Nolan-Peeler Motors
Miami Beach, FL
The Nolan-Peeler Motors dealership was designed by Carlos B. Schoeppl and built in 1929 as the "Cadillac Salon." The dealership had moved by 1942 and the building's bas-relief sculpture had been covered up by then. It was uncovered and restored in 2020. The building now houses a Guess clothing store. For more, see this website. [map]
former Chrysler Motors
Miami Beach, FL
This Chrysler Motors dealership was designed by T. Hunter Henderson and built in 1929. For more, see this website. [map]
former Cadillac-La Salle
Palm Beach, FL
This Cadillac-La Salle dealership was built in the 1920s. The building has housed the Maus & Hoffman clothing store since 1964. [map]
Gulfview Motors [gone]
Port Richey, FL
Gulfview Motors looked a lot like a Woody's Smorgasburger. I believe the building was constructed in 1964. Does anyone know what was here originally? I have heard that it was a pancake house and later an RV dealership. Gulfview Motors moved into the building in 1985. The dealership closed in 2009 and the building was demolished in 2011.
Crown Pontiac [gone]
St. Petersburg, FL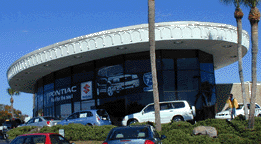 Crown Pontiac opened here around 1968-1969. This oval-shaped showroom was most likely from then. This photo is from 2005. In 2011, this building was demolished and replaced.
former Sunshine Motors
St. Petersburg, FL
2009:
2020:
This Sunshine Motors dealership was built in 1947. The company sold Willys and Jeeps. From 1957-1958, the building housed Sun Coast Edsel. By 2014, the building had been painted white. [map]
More St. Petersburg Dealerships & Showrooms:
Studebaker
former dealership
Titusville, FL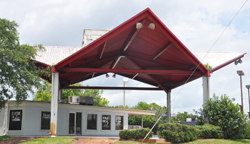 This former dealership canopy was built in 1965. I believe it was originally built for Gus Faulk Chevrolet. Fischer Chevrolet-Nissan was the most recent tenant. The building is currently vacant. For more, see this website. [map]
former Cadillac-LaSalle showroom
West Palm Beach, FL

2009:
2021:
This Cadillac-LaSalle showroom was built in 1925 for the Palm Beach Cadillac Company. The building was housing Ragtops Motorcars when these 2009 photos were taken. By 2014, the building had been painted white and undergoing renovation. The building is now painted white and houses the EmKo art gallery. [map]
Herrera Luxury Motors
West Palm Beach, FL
This building at Herrera Luxury Motors may have been a used car dealership office originally. It was housing a used car dealership in the 1990s but, more recently, it housed Culpepper Nautical. Does anyone know when this was built and what was here originally? [map]
RoadsideArchitecture.com

Copyright. All photos at this website are copyrighted and may only be used with my consent. This includes posting them at Facebook, Pinterest, blogs, other websites, personal use, etc.

Tips & Updates. If you have suggestions about places that I haven't covered, historical info, or updates about places/things that have been remodeled or removed, I'd love to hear from you: roadarch@outlook.com.