(hit "refresh" to get the most recent version of this page; click on photos for larger images)
Kay's Kitchen
St. Joseph, MN
Nordic Lounge
Ulen, MN
Kay's Kitchen opened in 1972. This sign must be from then or it might have been adapted from an older sign. [map]

The Nordic Lounge has what appears to be a refurbished sign from the 1950s or 1960s. [map]
Falkowski's Food Mart
Virginia, MN
Falkowski's Food Mart was also known as the Falkowski Super Market. The signs appear to be from the 1950s. The store closed around 2016. By 2018, the letters were gone but the Food Mart sign was still there. [map]
Smith Furniture
Wadena, MN
Barden's Bar
& Liquor Store
Waseca, MN
Johnson Hardware
Windom, MN
The Smith Furniture sign appears to be from the 1950s. [map]

Barden's Bar & Liquor Store opened here in 1937. This sign may be from then. It's not known what lies underneath the "Hamm's" sign panel. The owner thinks it said "Schlitz". For more, see this website. [map]

Johnson Hardware opened in 1932. This sign might be from then. The store is still in business. [map]
Standard Oil [gone]
Winnebago, MN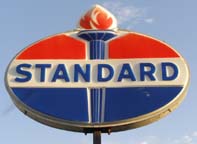 I believe this Standard Oil sign in Winnebago was from the 1970s. By 2014, the sign was gone.
Rune's Furniture and Carpet
Worthington, MN
Lien Electric
Worthington, MN
Rune's Furniture and Carpet was established in 1945. This sign might be from the 1950s or 1960s. [map]

The Lien Electric sign might be from the 1960s. These signs were mass-produced. These rubber door mats must have been mass-produced as well. These photos are from 2011. By 2012, only one of the plastic panels was still there it was displayed flat against the building. [map]
Spomer Classics [gone]
Worthington, MN
Spomer Classics opened around 2009. The museum displayed the collection of Marv Spomer who began collecting around 1989. The focus was on neon signs but there were also restored cars and other things. In 2022, Marv decided to close the museum and sell off most of the collection. For more, see this website.
RoadsideArchitecture.com

Copyright. All photos at this website are copyrighted and may only be used with my consent. This includes posting them at Facebook, Pinterest, blogs, other websites, personal use, etc.

Tips & Updates. If you have suggestions about places that I haven't covered, historical info, or updates about places/things that have been remodeled or removed, I'd love to hear from you: roadarch@outlook.com.