(hit "refresh" to get the most recent version of this page; click on photos for larger images)
White Haven
Motor Lodge
Overland Park, KS
(now Shawnee, KS)
Mission Hill
Cleaners [gone]
Overland Park, KS
Otto's Cafe
Pittsburg, KS
Little's Inc. [gone]
Pittsburg, KS
Jim's
Steak House
Pittsburg, KS
The White Haven Motor Lodge was built in 1957. The 35-foot-tall sign was built for $4,000 when the motel opened. The owners picked out the design from photos at the sign shop. The original paint scheme is intact. The motel closed in 2010. The sign was purchased the Johnson County Museum in Shawnee, KS. It was restored and is now displayed inside the museum. For more, see these websites: 1 and 2.

Sometime after 2001, the Mission Hill Cleaners sign was repainted and the neon was removed. The sign is probably from the 1950s. This photo is from 2010. The sign was removed around 2018. For more, see this website.

Otto's Cafe opened in 1945. This sign was probably installed at that time. For more, see this website. [map]

Little's Inc. was a women's clothing store. It opened at this location in 1955. This photo is from 2010. The shop closed in 2013. The sign was gone by 2014 and the building was housing a law office.

Jim's Steak House opened in 1938. This sign is probably from the 1950s. It is lit at night. The design bears a strong resemblance to the Alesi's Pizza House sign in Lafayette, LA. For more, see this website. [map]
Ayres-Calbeck Mortuary
Pratt, KS
Prime 8 Inn [gone]
Russell, KS
Sunflower Motel
Russell, KS
The Ayres-Calbeck Mortuary was established in 1892. This sign is probably from the 1950s or earlier. It is lit at night. For more, see this website. [map]

I believe the Prime 8 Inn sign advertised for the Kent Motel originally. This sign was gone by 2021.

The plastic panel part of the Sunflower Motel sign looks like it might have revolved. [map]
V.F.W.
Salina, KS
Starlite Motel
Salina, KS
Budget King Motel
Salina, KS
Airliner Motel
Salina, KS
Wood Fashion Plaza
Salina, KS
This V.F.W. sign is similar to the one shown above in Hutchinson. [map]

The Starlite Motel sign appears to be from the 1950s. Around 2021, the neon was removed and the sign was painted dark blue. For more, see these websites: 1 and 2. This Starlite Motel sign in Minneapolis, MN has an identical top. [map]

The Budget King Motel sign is probably from the 1950s. By 2018, the sign had been repainted. The neon is gone. For more, see this website. [map]

The Airliner Motel sign is also most likely from the 1950s. It has obviously been updated and altered a bit but the neon appears intact. [map]

The Wood Fashion Plaza sign originally read "Wood Fashion Cleaners". It was adapted sometime after 2006. The sign is probably from the 1950s. For more, see these websites: 1 and 2. [map]
Salina Supply
Company
Salina, KS
Edgington
Music Co.
Salina, KS
Vernon Jewelers
Salina, KS
Hedges Neon Sales
Salina, KS
The Salina Supply Company was established in 1919. This sign is probably from the 1940s or 1950s. [map]

The Edgington Music Co. is now Midwest Music but this sign remains. I don't know if the neon clarinet is lit anymore. [map]

Vernon Jewelers opened here in 1884. The sign is probably from the 1950s or 1960s. [photo thanks Glenda Campbell] [map]

Hedges Neon Sales has been around since at least the 1950s. This sign appears to be from then. [map]
Empire Motel
St. Francis, KS
Topeka Steak House
Tecumseh, KS
Sunset Motel [gone]
Tonganoxie, KS
The Empire Motel sign appears to be from the 1950s. By 2018, the neon had been removed and the sign was repainted. The "Air Conditioned Vacancy" panel has been covered over with a digital display box. [map]

The Topeka Steak House opened in the 1950s. This sign was restored sometime after 2007. This photo is from 2010. For more, see these websites: 1 and 2. [map]

The Sunset Motel sign was probably from the 1950s. I don't know if the light at the top was original or if this sign was missing a piece. The neon was missing but the porcelain enamel colors had held up well. The sign and the motel itself were gone by 2018.
Topeka Electric Motor Repair
Topeka, KS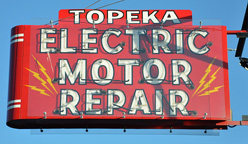 Topeka Electric Motor Repair has been in business since around 1910. This sign is probably from the 1940s or 1950s. It was restored sometime after 2008 and is covered with plexiglass to protect the neon from vandals. [map]
Cardinal Building Services [gone]
Topeka, KS
Tevis Restaurant [gone]
Topeka, KS
Pointer Apartments [gone]
Topeka, KS
Cardinal Building Services, a janitorial business, kept this sign from the former occupant. I believe it was originally built for a flower shop. By 2019, the sign had been painted over.

The Tevis Restaurant opened in 1965 and closed in 2007. This sign is gone now. [photo thanks Glenda Campbell]

The Pointer Apartments sign originally had neon and advertised for the Pointer Motel. This sign has been there since at least 1956. This photo is from 2010. By 2013, the dog on top of the sign was gone.
Gage Center
Topeka, KS

The Gage Center shopping center was built in 1959. The peeling green paint revealed the red sign underneath. Around 2017, the sign was repainted white and blue. [map]
RoadsideArchitecture.com

Copyright. All photos at this website are copyrighted and may only be used with my consent. This includes posting them at Facebook, Pinterest, blogs, other websites, personal use, etc.

Tips & Updates. If you have suggestions about places that I haven't covered, historical info, or updates about places/things that have been remodeled or removed, I'd love to hear from you: roadarch@outlook.com.