(hit "refresh" to get the most recent version of this page; click on photos for larger images)
Eby's Drug Store [gone]
Woodbine, IA
Rosen's Morseview Pharmacy [gone]
Chicago, IL
Eby's Drug Store was founded in 1916 and operated until 2015. This sign might have been from the 1930s or 1940s. It was gone by 2021.

Rosen's Morseview Pharmacy opened in 1959 and this sign was probably from then. The name was derived from the store's location at the corner of Morse and Greenview Avenues. These photos are from 2012. The sign was still there in 2015 but gone by 2016.
Gwinn's Drug Store [gone]
Anderson, IN

The Gwinn's Drug Store opened in 1932. This sign was probably from the 1950s. This photo was taken in 2010. The store closed in 2012. By 2013, the sign was gone.
Bankes Drug Store
Abilene, KS
Porter Drug Store
Neodesha, KS
The Bankes Drug Store sign appeared to have been recently refurbished when this photo was taken in 2010. The store itself is known as the AuBurn Pharmacy. In 2019, the store moved. The neon sign will be displayed inside.

The Porter Drug Store sign is probably from the 1950s. This photo is from 2010. The sign was restored by 2014. [map]
Kingman Drug
Kingman, KS
2010:
2023:
The Kingman Drug sign is probably from the 1950s or 1960s. These vacuum form plastic mortar and pestle panels may have been mass-produced but I have never seen any others like it. By 2018, these panels had been replaced with similar but flat ones. [map]
El-Kan Drug
Liberal, KS
El-Kan Drug opened in 1995. Johnson Drug was at this address by the 1960s. I suspect this sign was adapted when the name changed. [map]
Mills
Drug Store [gone]
Owensboro, KY

This embossed plastic sign at Mills Drug Store was probably from the 1960s or 1970s. By 2012, the store had closed. By 2019, the sign was gone.
Stephens Drugs [gone]
Louisville, KY
Simon's Pharmacy [gone]
Breaux Bridge, LA
Stephens Drugs opened in 1944. The store closed in 2011 and these signs have been removed.

Simon's Pharmacy replaced the store's neon sign with a plastic one sometime after 2008. This photo is from 2010. However, both faces of the old sign are displayed inside the store. By 2019, the building was housing Gladiators Academy and all three of these signs were gone.
La Pharmacie Francaise
New Orleans, LA
St. Bernard Drugs [gone]
New Orleans, LA
The La Pharmacie Francaise sign hangs above the New Orleans Pharmacy Museum. The pharmacy was built for Louis J. Dufilho, Jr., believed to be America's first licensed pharmacist. His shop opened at this location in 1823. The museum opened in 1950. The sign was built around 2013. It is a replica of a sign from the 1960s. [map]

St. Bernard Drugs opened in 1960 and this sign appeared to be from then. In 2021, a new sign was installed. I suspect that the previous one was destroyed during a hurricane.
Green Cross Pharmacy
Boston, MA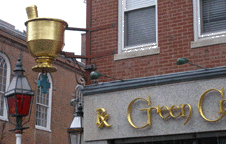 I don't know if this Green Cross Pharmacy mortar and pestle sign is old or new. By 2020, the building was housing the Nando Ristorante Enoteca. The mortar and pestle sign are still there. [map]
Lipka's Drug Store
Montague, MI
Wheeler Drug Store
Decatur, MS
Lipka's Drug Store opened in the 1940s. It is no longer a drug store but still operates as a soda fountain and restaurant. [map]

The Wheeler Drug Store opened in 1959. This modern sign was built in 2013. There was a plain rectangular sign before this. [map]
Longbella Drug
Staples, MN
The Longbella Drug sign is probably from the 1950s. Longbella might not be the original name. [map]
Apothecary Shop
Hendersonville, NC
Creech Drug Co.
Selma, NC
The Apothecary Shop building was built around 1900 for the Justus Pharmacy. It is not known when the space began housing the Apothecary Shop. The store closed around 1994. This sign appears to be from the 1950s or 1960s. The metal or ceramic mortar pestle is outlined with neon and encased behind clear panels. The sign is only partially lit now but the owner is considering having it restored. Since 2003, the space has been home to Mike's on Main Street sandwich shop. The restaurant's interior features antiques as well as an opal glass "SODA" sign and a Federal Electric "DRUGS" sign. [map]

The Creech Drug Co. was established in 1939. There is still a soda fountain inside. The neon appears to be in good shape. [map]
Almklov's Pharmacy
Cooperstown, ND
I believe Almklov's Pharmacy opened in early 1990s. The sign is probably from the 1950s. The store has closed but the sign remains. [map]
Steffen Drug
Hartington, NE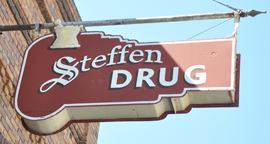 Steffen Drug opened in 1999. Before that, the store housed another drug store since 1913. I believe it was Buchanan Drug. This sign was installed sometime after 2012. I don't know if was from the previous drug store or it advertised for another business someplace else. The sign has patched neon tubing holes and looks like it might be from the 1950s or 1960s. [map]
Mast Pharmacy & Surgical Supply
Bordentown, NJ
The Mast Pharmacy & Surgical Supply sign is probably from the 1950s. For more, see this website. [map]
RoadsideArchitecture.com

Copyright. All photos at this website are copyrighted and may only be used with my consent. This includes posting them at Facebook, Pinterest, blogs, other websites, personal use, etc.

Tips & Updates. If you have suggestions about places that I haven't covered, historical info, or updates about places/things that have been remodeled or removed, I'd love to hear from you: roadarch@outlook.com.