(hit "refresh" to get the most recent version of this page; click on photos for larger images)
Ace Sign Co.
Springfield, IL
The Ace Sign Co. was established in 1940. These photos were taken of the shop's mini sign museum in 2009. The sign company has moved and now has more room to display its collection.
Zimmerman Ford [gone]
St. Charles, IL
Stanley Cour-Tel [gone]
Staunton, IL
Zimmerman Ford was established in 1931. The dealership's sign was built in 1964. It was originally installed on a revolving base. Around 2018, the business became Hawk Ford. The sign remained but the neon letters for "Zimmerman" were removed and "Hawk" was painted on the panels. The Ford sign was located behind the dealership. It is gone now. Around 2021, the giant Zimmerman pole sign was also removed. For more, see these websites: 1 and 2.

The Stanley Cour-Tel was located in Bridgeton, MO. These signs were saved in 2003 and installed at Henry's Rabbit Ranch. In 2019, the signs were removed. They are being restored at Signcrafters in St. Louis and will be displayed in a neon sign park in St. Roberts, MO. For more, see this website.
Elks Lodge
Streator, IL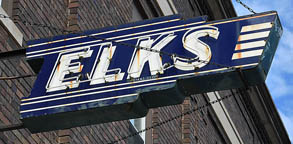 This Elks Lodge sign appears to be from the 1940s or 1950s. [map]
Capponi's
Italian Foods
Toluca, IL
Mona's Italian Foods
Toluca, IL
Cooper Motel [gone]
Tuscola, IL
Capponi's Italian Foods opened in 1934. This sign was built in the early 1950s. For more, see this website. [map]

Mona's Italian Foods opened in 1933. This sign was built around 1954 in response to the new sign that the nearby competition, Capponi's, had installed. The chef's spoon is sequentially animated. Mona's and Capponi's are just down the street from each other. Once competitors, both restaurants have been owned by the Bernardi family since 1965. During the week, the restaurants are opened on alternate nights. They are both open on weekends. For more, see this website. [map]

The Cooper Motel sign was probably built in the 1950s. The sign originally had a man in a car beneath the text panel. These photos are from 2009. By 2012, this motel replaced this sign with plastic box sign. However, this neon sign was saved and moved across the street to Cooper Motors. But by 2015, the sign was gone. For more, see these websites: 1 and 2.
RoadsideArchitecture.com

Copyright. All photos at this website are copyrighted and may only be used with my consent. This includes posting them at Facebook, Pinterest, blogs, other websites, personal use, etc.

Tips & Updates. If you have suggestions about places that I haven't covered, historical info, or updates about places/things that have been remodeled or removed, I'd love to hear from you: roadarch@outlook.com.