(hit "refresh" to get the most recent version of this page; click on photos for larger images)
Stan the Tire Man
Mount Vernon, IL
Pittsburgh Paints
Nauvoo, IL
Stan the Tire Man opened in 1951. This sign was built a couple of years after that. The top part of the sign with the bulbs is made of stainless steel. It appears that this part of the sign was added after 1965. In 2015, the store closed. The owner plans to remove and sell the sign. However, in 2018, the sign was still there. [map]

This Pittsburgh Paints sign hangs above Kraus Home Furnishings. These embossed plastic signs were mass-produced and there are still a number of them around the country. [map]
Booby's Charcoal Rib
Niles, IL
Imperial House of Glass Blocks
Niles, IL
Booby's Charcoal Rib opened in 1961 and this sign is from then. The man depicted on the sign is restaurant's founder, Ronald "Booby" Friedman. [map]

The Imperial House of Glass Blocks featured this cute plastic sign and a fašade display of the company's products. The glass blocks are still there but the sign's panel was changed for the new tenant, a medical group. [map]
Petey's Bungalow Lounge
Oak Lawn, IL
Reichman Jewelers
Oak Lawn, IL
Sparkle Cleaners [gone]
Oglesby, IL
Garzanelli's Supper Club
Oglesby, IL
The Sparkle Cleaners sign appeared to have been recently adapted. The "Sparkle" lettering on the middle portion, as well as the starbursts, appear to be modern. The sign's neon was protected behind clear plastic panels. This photo is from 2009. The sign had been removed and sold to a collector by 2016.

The Garzanelli's Supper Club sign is probably from the 1950s or 1960s. The place closed in 2016 but it reopened in 2020. For more, see this website. [map]
Prairie Farms
Olney, IL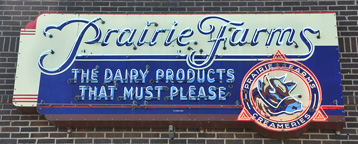 This Prairie Farms Dairy sign hangs on the company's processing plant. [map]
Sands Motel [gone]
Ottawa, IL
Woody's
Steak House
Ottawa, IL
Monte's Riverside Inn
Ottawa, IL
The Sands Motel sign appeared to be from the 1950s. This photo is from 2009. By 2016, the sign had been replaced with a plastic box sign. For more, see this website.

The Woody's Steak House sign apparently revolved at one time. It was not spinning when this photo was taken in 2009. [map]

The Monte's Riverside Inn sign appears to be from the 1950s. [map]
Brunner Auto Supply
Pana, IL
Maurie's Candies [gone]
Pekin, IL
Siegle-Hunt
Lumber [gone]
Peoria, IL
The neon has been removed from the Brunner Auto Supply sign. It is probably from the 1930s or 1940s. The store is now part of the Napa Auto Parts chain but this sign remains. [map]

Maurie's Candies was a newsstand, candy shop, and convenience store with two old signs. The business was established in 1941. This photo is from 2006. The sign's neon was restored around 2010. The sign was removed in 2012 for a more thorough restoration. The Karmelkorn-News sign was also taken down and donated to the local history museum. The Maurie's sign was then displayed inside the shop next to the window. In 2019, the business was sold and moved to Eureka, IL. The Maurie's sign is currently in storage but may be restored and displayed at the shop at some point. For more, see these websites: 1 and 2.

Siegle-Hunt Lumber featured a wood, log-shaped sign. The sign was gone by 2017.
Masonic
Temple
Peru, IL
Lowry Farm
Pittsfield, IL
Green Acres Motel
Pittsfield, IL
Cardinal Inn Cafe
Pittsfield, IL
Hotel Elkton
Quincy, IL
The glass globes on this Masonic Temple sign are in great shape. [map]

I believe Lowry Farm was a horse farm at one time. The neon horse's legs were apparently animated. [map]

The star on the Green Acres Motel sign was apparently inspired by the Holiday Inn sign which was developed in 1952. [map]

The Cardinal Inn Cafe pole sign was refurbished sometime between 1998 and 2004. The Cafe's smaller sign was installed above the restaurant's entrance. These photos are from 2009. Sometime between 2012 and 2015, the restaurant moved to a new location. Both signs were moved and installed there. For more, see these websites: 1 and 2. [map]

This Hotel Elkton sign was probably built in 1959 which is when the Patio Restaurant opened. For more, see this website. [map]
Maid-Rite Sandwich Shop
Quincy, IL
Roy Bennett Furniture
Quincy, IL
This Maid-Rite Sandwich Shop opened in 1928. The chain was established in Iowa in 1926. This sign appears to be from the 1950s or 1960s. Another old location existed in Macomb, IL. For more, see these websites: 1 and 2. [map]

Roy Bennett Furniture has been around since 1914. [map]
Rantoul Motel
Rantoul, IL
Litchfield
Hardware [gone]
Rantoul, IL
Furniture World
Rantoul, IL
Beacon
Restaurant [gone]
Rochelle, IL
The Rantoul Motel sign is probably from the 1950s. [map]

Litchfield Hardware opened in 1955 and this sign appears to be from then. The store closed in 1996. It housed Craft Woodworking after that. The sign was removed in 2019 and is now in a private collection. For more, see these websites: 1 and 2.

Furniture World opened in the 1950s. Does anyone know what's behind the part of the sign that's covered up? [map]

The Beacon Restaurant featured this lighthouse-shaped sign. The neon was removed at some point. By 2010, the building housed the New China Buffet restaurant. The sign was replaced with a plastic box sign.
Sawicki Motors [gone]
Rochelle, IL

Sawicki Motors featured vintage Chevrolet OK Used Car signs. These photos are from 2008. By 2015, these signs were gone and there was a new showroom.
RoadsideArchitecture.com

Copyright. All photos at this website are copyrighted and may only be used with my consent. This includes posting them at Facebook, Pinterest, blogs, other websites, personal use, etc.

Tips & Updates. If you have suggestions about places that I haven't covered, historical info, or updates about places/things that have been remodeled or removed, I'd love to hear from you: roadarch@outlook.com.