(hit "refresh" to get the most recent version of this page; click on photos for larger images)
Carter Drugs
Barnesville, GA
Quail Motel [gone]
Blakely, GA
Carter Drugs opened in 1948 and this sign is probably from then. It was built as a Walgreen Agency sign. The original middle panel was removed at some point. Most likely, "Drugs" was moved up to the mmiddle and the other two green panels were replaced. It would have looked like this sign in Kingman, AZ originally. [map]

The Quail Motel opened in 1956 and this sign was built then. The motel is still there. In 2008, the sign was replaced with a plastic panel box sign.
Green Oaks Motel
Bremen, GA
Sewell Manufacturing Co.
Bremen, GA
The Green Oaks Motel sign was probably built in the 1950s. [map]

The Sewell Manufacturing Co. was established as the Sewell Company in Atlanta. The men's clothing company moved to this building in Bremen in 1928. This sign and the neon clock may be from then. In 2008, the company moved production to Alabama but part of the building is still used as the Sewell Factory Store, selling men's suits. [map]
Marion Drug
Buena Vista, GA
This Coca-Cola sign on the side of the long-closed Marion Drugs building is probably from the 1950s. [map]
Biggar Antiques [gone]
Chamblee, GA
Biggar Antiques sold quite a number of signs. Many of them were rented for movie props. The Franklin Motel sign came from Franklin, NC. In 2010, when these photos were taken, there were also three A&W Burger Family statues for sale. The store moved in 2016 and there was nothing left at this location.
Adco Motel
Chatsworth, GA
Chief Vann Motel [gone]
Chatsworth, GA
Candlelight
Motel [gone]
Columbus, GA
Pussy Cat Lounge [gone]
Columbus, GA
The Adco Motel sign has been there since the 1950s. The arrow was originally longer and extended past a small readerboard. For more, see this website. [map]

The Chief Vann Motel was built around 1955. It had been abandoned for many years after a couple of devastating fires. This photo is from 2009. The motel was demolished later that year. This sign was still there in 2013. Supposedly, the Indian's arm used to wave at passing motorists. That must have been through animated neon tubing rather than moving metal panels. By 2017, the sign panels with the Indian were gone. For more, see these websites: 1 and 2.

This photo of the Candlelight Motel sign is from 2005. By 2009, the motel was replaced with a Taco Bell. I don't know if the sign was saved. For more, see this website.

My guess is that this Pussy Cat Lounge sign was from the 1970s or later. Does anyone know when this place opened? This photo is from 2010. At some point between 2012 and 2014 the business had closed and the sign was removed.
Georgian Motor Court
Cordele, GA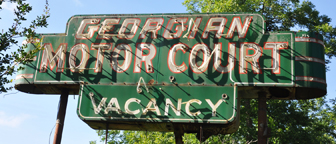 The Georgian Motor Court was built in the early 1940s. This sign is probably from then. The motel closed in 1982 but the buildings and sign remains. For more, see this website. [map]
Masonic Temple #105
Dalton, GA
Oakwood Cafe
Dalton, GA
Cowpuncher's Palace [gone]
Decatur, GA
This Masonic Temple sign is probably from the 1950s. For more, see this website. [map]

The Oakwood Cafe moved to this location in the 1940s. This sign appears to be a replica. The original might have been from the 1940s. For more, see this website. [map]

Cowpuncher's Palace was a Western clothing and horse supplies store. The business was gone already when these photos were taken in 2006. This sign was adapted for Cricket Campers. By 2011, the sign was gone. This sign must have advertised for Bonanza Homes originally. For examples, see this page. [photos thanks Katherine W. Linn]
Smalley's Animal Hospital
Dublin, GA
2009:
2021:
Smalley's Animal Hospital opened here in 1946 and this sign was installed then. Sometime between 2014 and 2016, the top panel with the dog was gone. It was back by 2018 and the sign had been recreated. [map]
Carter's Cleaners & Laundry
Forest Park, GA
Garden City Shopping Center
Garden City, GA
I believe Carter's Cleaners & Laundry opened in 1950. This sign might be from the 1950s or 1960s. I believe the store has been closed since at least 2010. [map]

The Garden City Shopping Center sign is probably from the 1950s. [map]
RoadsideArchitecture.com

Copyright. All photos at this website are copyrighted and may only be used with my consent. This includes posting them at Facebook, Pinterest, blogs, other websites, personal use, etc.

Tips & Updates. If you have suggestions about places that I haven't covered, historical info, or updates about places/things that have been remodeled or removed, I'd love to hear from you: roadarch@outlook.com.