(hit "refresh" to get the most recent version of this page; click on photos for larger images)
Bill Chambers Motors [gone]
Albany, GA
Carling Black Label
Albany, GA
Bill Chambers Motors opened in the 1950s and this sign appears to have been from then. This photo is from 2007. By 2011, the business and the sign were gone.

This giant Carling Black Label neon sign stands next to the Oglethorpe Lounge. I have not seen any others like this. [map]
Giles Builders Supply [gone]
Albany, GA
The "Mr. Builder" sign was installed on the roof of Giles Builders Supply when they opened in 1953. The sign features red, white and blue neon and Mr. Builder's hammer moves up and down. Giles closed in 2009. In 2010, a new company moved into the building and the sign was donated to the Thronateeska Heritage Foundation. I assume that was just the square panel and that the much larger horizontal panel was destroyed. For more, see this website.
Pipe Corner
Atlanta, GA
Kennedy and Cohen [gone]
Atlanta, GA
The Bootery
Atlanta, GA
Pipe Corner is long gone but this sign remains. The Royal Cigar Co. store is long gone but this sign remains. It has been there since at least 1952. The sign has not been lit until 1990. In 2015, plans were announced to demolish the building on which this sign hangs. The fate of this sign is unknown at this point. In 2016, the building and sign were still there. For more, see this website. [map]

The Kennedy and Cohen appliance store was long gone when this photo was taken in 2006. The sign was over 100 feet tall. By 2011, it was gone.

The Bootery sign may have been moved here from a previous location. It has been at this location since at least 1951. The Poll Parrot Shoes' parrot sign was installed sometime after 1951. Previously, there were Sundial Shoes letters installed where the parrot is now. In 2011, the projecting blade sign was removed. The script letters are still there. For more, see this website. [map]
Majestic Shoe Repair
Atlanta, GA
Prince Hall Grand Lodge
Atlanta, GA
Majestic Shoe Repair sign has been here since at least 1951. The store is gone but the sign remains. [map]

The Prince Hall Grand Lodge was built in 1937. This sign was repainted around 2008. This photo is from 2009. For more, see these websites: 1 and 2. [map]
Cooper Music
Atlanta, GA
Blue Bird Service Center
Atlanta, GA
Cooper Music's giant piano sign is visible from I-85. Cooper Music was founded in 1906. This sign was built in 1983. [map]

The Blue Bird Service Center was established in 1939. At that time, three giant neon bluebird signs were installed. Two of the bluebird signs were installed on the roof as part of a huge, two-sided "Truck Stop" sign visible from Memorial Drive (later I-20). That sign was removed in 1994 and I don't know if either of bluebirds were saved. For awhile, one of them was leaning against the side of the building. That sign is now behind the building.

This bluebird sign still remains mounted on the former gas station building. At some point, the gas pumps were removed. The building has been used for a variety of businesses in recent years. For more, see these websites: 1, 2, 3, and 4. [map]
Quail Motel [gone]
Blakely, GA
The Quail Motel opened in 1956 and this sign was built then. The motel is still there, hwow In 2008, it was replaced with a plastic panel box sign.
DiPrima's Shoes & Boots [gone]
Calhoun, GA
Groover's Shoe Shop
Rome, GA
The DiPrima's Shoes & Boots sign is believed to be from the late 1940s or early 1950s. It was originally installed at the first store in the chain in Rome, GA. The DiPrima family owned four shoe repair shops in Rome. The sign was later moved to this store in Calhoun, GA. In 2015, the sign pole was hit by a car and destroyed the sign. The owner was considering having a replica built. However, I don't believe that happened.

Groover's Shoe Shop opened in 1940. It was later purchased by Romeo DiPrima. The DiPrima and Groover signs were most likely built by the same shop, possibly at the same time. The Groover's sign was hanging by the road when this photo was taken in 2007. It is now located near the side of the building. For more, see this website. [map]
Biggar Antiques [gone]
Chamblee, GA
Biggar Antiques sold quite a number of signs. Many of them were rented for movie props. The Franklin Motel sign came from Franklin, NC. In 2010, when these photos were taken, there were also three A&W Burger Family statues for sale. The store moved in 2016 and there was nothing left at this location.
Chief Vann Motel [gone]
Chatsworth, GA
Candlelight
Motel [gone]
Columbus, GA
Pussy Cat Lounge [gone]
Columbus, GA
The Chief Vann Motel was built around 1955. It had been abandoned for many years after a couple of devastating fires. This photo is from 2009. The motel was demolished later that year. This sign was still there in 2013. Supposedly, the Indian's arm used to wave at passing motorists. That must have been through animated neon tubing rather than moving metal panels. By 2017, the sign panels with the Indian were gone. For more, see these websites: 1 and 2.

This photo of the Candlelight Motel sign is from 2005. By 2009, the motel was replaced with a Taco Bell. I don't know if the sign was saved. For more, see this website.

My guess is that this Pussy Cat Lounge sign was from the 1970s or later. Does anyone know when this place opened? This photo is from 2010. At some point between 2012 and 2014 the business had closed and the sign was removed.
Masonic Temple #105
Dalton, GA
Cowpuncher's Palace [gone]
Decatur, GA
This Masonic Temple sign is probably a replica of a vintage sign. For more, see this website. [map]

Cowpuncher's Palace was a Western clothing and horse supplies store. The business was gone already when these photos were taken in 2006. This sign was adapted for Cricket Campers. By 2011, the sign was gone. This sign must have advertised for Bonanza Homes originally. For examples, see this page. [photos thanks Katherine W. Linn]
Maryland Fried Chicken
Albany, GA
Maryland
Fried Chicken
Swainsboro, GA
Maryland Fried Chicken
Augusta, GA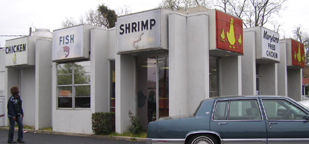 This Maryland Fried Chicken, a defunct Southern chain, has a nicely preserved sign and building. The owner is a Grateful Dead fan and has decorated the interior with a hippie theme. This location has also added a giant rooster. For other locations, see this page. [map]

The Swainsboro location has another old sign. [map]

The Augusta location is a more traditional example of the chain's exterior. The sign was replaced with a smaller, plastic box sign. [map]

There is another location in Waycross, GA with an updated sign.
RoadsideArchitecture.com

Copyright. All photos at this website are copyrighted and may only be used with my consent. This includes posting them at Facebook, Pinterest, blogs, other websites, personal use, etc.

Tips & Updates. If you have suggestions about places that I haven't covered, historical info, or updates about places/things that have been remodeled or removed, I'd love to hear from you: roadarch@outlook.com.