(hit "refresh" to get the most recent version of this page; click on photos for larger images)
Jimbo's Pit Bar B-Q
Tampa, FL
Bond Auto Sales
Tampa, FL
Jimbo's Pit Bar B-Q opened in 1970 and this sign appears to be from then. For more, see this website. [map]

Bond Auto Sales opened in 1962 and this sign is probably from then. For more, see this website. [map]
Village Motel
Tampa, FL
Gem Box
Jewelers
Tampa, FL
Badcock
Furniture [gone]
Tampa, FL
The Village Motel was built in 1938. This sign might be from then or slightly after that. For more, see this website. [map]

The Gem Box Jewelers sign is an example of the mass-produced jewelry store sign for Gruen Watches. It has the same design as the Gowdy Jewelers sign in Canton, MS and the Daved Jewelers sign in Willoughby, OH which was restored in 2020. The long-gone store was housing the Gem Box by 1958. I don't know if that was the original occupant. The sign is probably from the late 1940s or early 1950s. [map]

Badcock Furniture first opened in Mulberry, FL and now has over 300 locations in the Southeast. However, this location and sign are now gone. A similar sign existed in Fairmont, NC.
Brahman Lounge & Liquors
Tampa, FL
2009:
2020:
The Brahman Lounge & Liquors sign appears to be from the 1950s. This photo is from 2009. The sign was repainted around 2016. [map]
Hellas Restaurant
Tarpon Springs, FL
Moon Light Drive-in
Titusville, FL
Hotpoint
Appliances
Titusville, FL
Sherwin-Williams
Paints
Titusville, FL
The Hellas Restaurant opened in 1970. This sign appears to be from then. [map]

The Moon Light Drive-in has been around since 1964. For more, see these websites: 1 and 2. [map]

The Hotpoint Appliances sign hunt above the Stickee Surf Shop when this photo was taken in 2009. The building was vacant in 2015 but the sign was still there. For more, see this website. [map]

The Sherwin-Williams Paint sign hangs above a dance studio. There was originally a hardware store here. For more, see this website. [map]
Sea Jay Motel
Treasure Island, FL
Thunderbird Beach Resort Hotel
Treasure Island, FL
Pirate
Treasure Island, FL
I believe the Sea Jay Motel was built in the 1950s. [map]

The Thunderbird Beach Resort Hotel was built in 1957. For more, see these websites: 1, 2, 3, and 4. [map]

This Pirate sign was most likely the replacement for this sign. Even then, the pirate's chest was filled with oranges instead of gold. I don't know when either sign were built but the earlier sign was there by the 1960s. The panel with "Welcome to Treasure Island Florida" is gone now. The pirate represents Long John Silver, the fictional figure and symbol of Treasure Island. He was featured in the 1883 novel, Treasure Island, by Robert Louis Stevenson. For more, see this website. [map]
Queen's Lodge Motel & Apartments
West Palm Beach, FL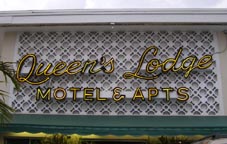 The Queen's Lodge Motel & Apartments was established in 1972. The motel and this sign look older than that so it was probably another business/name before that. [map]
Dickson's Appliances
Winter Garden, FL
Andy's Drive-in
Winter Haven, FL
Skycraft Surplus
Winter Park, FL
Dickson's Appliances is long gone but this sign remains. It is probably from the 1950s. [map]

Andy's Drive-in opened in 1951 as a Dairy Queen. It is officially known as Andy's Drive-In Restaurant and Igloo. The "igloo" is the ice cream take-out window on the side of the building. [map]

Skycraft Surplus opened in the mid-1970s and features this UFO over the entrance. There are also two rockets mounted on the exterior wall. The store sells electronic parts, electrical supplies, hardware, and other stuff. In 2019, it was announced that the store would be moving nearby and that the UFO and rockets are not permitted to move to the new location. For more, see these websites: 1, 2, and 3. [map]
Holler Chevrolet
Winter Park, FL
These photos of the Holler Chevrolet signs were taken in 2009. By 2011, the blade and OK signs (above right) at the previous location were gone. The larger sign has been adapted. The neon "Chevrolet" panel was replaced with a plastic panel reading "Driver's Mart." The smaller panels below it were replaced. For more, see this website. [third and fourth photos thanks Tom Fawls] [map]
RoadsideArchitecture.com

Copyright. All photos at this website are copyrighted and may only be used with my consent. This includes posting them at Facebook, Pinterest, blogs, other websites, personal use, etc.

Tips & Updates. If you have suggestions about places that I haven't covered, historical info, or updates about places/things that have been remodeled or removed, I'd love to hear from you: roadarch@outlook.com.