(hit "refresh" to get the most recent version of this page; click on photos for larger images)
Jolly Green Giant
Pensacola, FL
Joe Patti's Seafood
Pensacola, FL
The Jolly Green Giant sign is installed at Bailey's Farmers Market. The business was originally known as Bailey's Homestead when it opened in 1938. The market moved here in 2004. This 25-foot-tall sign is a replica of the one that was at the original location. That sign was 32 feet tall and could not be moved here due to local sign ordinances. [map]

Joe Patti's Seafood started as a wholesale business in 1931. In the 1960s, the company changed to a retail operation. This sign appears to be from the 1950s. For more, see this website. [map]
Pensacola Beach directional sign
Pensacola, FL
2005:
2010:
2019:
2020:
Flounders Chowder House
Pensacola Beach, FL
Frisky Dolphin Sunset Oyster Bar & Grill
Pensacola Beach, FL
Pensacola Beach RV Park
Pensacola Beach, FL
This Pensacola Beach directional sign was originally built in 1960 and located in downtown Pensacola Beach. It was designed by Patricia Born of the Dodson, Craddock & Born advertising agency. It was later moved to its current location at the foot of the Bob Sikes Bridge in Pensacola. The original neon sailfish is displayed above the outdoor stage at Flounder's Chowder House. This panel is from the back of the sign facing the bridge which, in all versions, had text.

In 2003, the sign was rebuilt after extensive rusting. In late 2004, Hurricane Ivan did considerable damage (2005 photo above). The sign was replaced with a replica.

In 2019, just after the 2019 photo above was taken, a replica sign was built with LED tubing instead of neon. The previous sign was auctioned off in separate pieces. The sailfish panel is now displayed at the Frisky Dolphin. The text panel is displayed at the Pensacola Beach RV Park. For more, see these websites: 1, 2, 3, and 4. [map]
Westgate Motel & Campgrounds
Perry, FL
Gandy Motor Lodge
Perry, FL
The Westgate Motel & Campgrounds was built in 1950. This sign is probably from then. [map]

The Gandy Motor Lodge was built in 1955. This sign appears to be from then. The sign was originally painted black. It was painted red around 2012. [map]
Olde Dixie
Fried Chicken [gone]
Pine Castle, FL
Brown's Floral Shop [gone]
Plant City, FL
The Olde Dixie Fried Chicken sign was installed in 1962. The road that it is located on was known as the Old Dixie Highway. As far as I know, this restaurant was not part of a chain. The restaurant closed in 2016 and the sign was removed. Part of it was saved by the American Sign Museum in Cincinnati, OH. For more, see this website.

Brown's Floral Shop has been around since 1928. These photos are from 2009. By 2012, Brown's had moved to a new location. The pole sign was gone and the sign on the building was missing the neon.
Harvey's Groves
Rockledge, FL
Elks Lodge
Sanford, FL
Harvey's Groves opened in 1926 as a citrus store and packer. This sign is probably from the 1950s or 1960s. The backlit plastic sign revolved. The store closed in 2017 but this sign remains. [map]

This Elks Lodge was established in 1911. The neon sign is probably from the 1950s. It was probably installed on a pole originally. The backlit, painted glass sign might also be from the same time. [map]
George's Tavern
Sanford, FL
2009:
2021:
The George's Tavern sign was built in 1958. The sign was repainted in 2008. For more, see this website. [map]
Mel-O-Dee Restaurant
Sarasota, FL
The Mel-O-Dee Restaurant opened around 1955. There was a different pole sign there originally. It has been closed since at least the early 2000s. [map]
Lena's Restaurant
Silver Springs, FL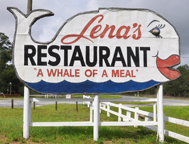 Lena's Restaurant opened its first location in Salisbury Beach, MA in 1958. In 1972, the restaurant moved to Salisbury, MA which has a similar sign. I believe this location opened in the 1980s. [map]
Magic Beach Motel
St. Augustine, FL
Arnold's Cocktail
Lounge [gone]
St. Augustine, FL
Fountain of Youth
St. Augustine, FL
The Magic Beach Motel was built in 1951 as the Vilano Beach Motel. This sign was built in 1999 when the TV series "Safe Harbor" was filmed here. The sign stayed and the motel was renamed. It is lit at night. This photo is from 2009. After a fire, the motel and sign were restored in 2011. In 2021, plans were announced to demolish the motel and build a larger one. That fell through. For more, see these websites: 1 and 2. [map]

Arnold's Cocktail Lounge had two 1950s-looking signs. This photo is from 2009. This sign was removed around 2014. The other reworked sign is still there. This establishment was originally known as Roscoe's Restaurant. For more, see this website.

This Fountain of Youth sign arch marks the road from the main highway to the Fountain of Youth Archeological Park tourist attraction. I believe it was installed in 1927 or shortly thereafter. For more, see these websites: 1, 2, and 3. [map]
Jiffy Food Store
St. Cloud, FL
Reptile World Serpentarium
St. Cloud, FL
The Jiffy Food Store convenience store chain in Florida was established in 1965. This sign is probably from around then. Thre is another one of these signs in Chiefland, FL. [map]

Reptile World Serpentarium opened in 1972 and this sign is probably from then. For more, see this website. [map]
RoadsideArchitecture.com

Copyright. All photos at this website are copyrighted and may only be used with my consent. This includes posting them at Facebook, Pinterest, blogs, other websites, personal use, etc.

Tips & Updates. If you have suggestions about places that I haven't covered, historical info, or updates about places/things that have been remodeled or removed, I'd love to hear from you: roadarch@outlook.com.