(hit "refresh" to get the most recent version of this page; click on photos for larger images)
Simpson's Florist
Decatur, AL
Big Bob Gibson's
Bar-B-Q
Decatur, AL
Simpson's Florist opened in 1957 with this sign. Shortly after this photo was taken in 2010, the sign was restored. [map]

Big Bob Gibson's Bar-B-Q was established in 1925 when Bob Gibson began selling barbecue in his backyard. This restaurant was built in 1952 and the sign was created then. [map]
Carmichael
Wholesale
Dothan, AL
Bee-Line Motel [gone]
Dothan, AL
Barrentine Fish Market & Oyster Bar
Dothan, AL
Carmichael Wholesale is long gone but this sign remains. It appears to be from the 1950s. Since 2018, the building has housed the Mural City Coffee Company. [map]

The Bee-Line Motel is located on the Bee-Line Highway. The sign appears to be from the 1950s or 1960s. These photos are from 2007. The sign was still intact in 2019. However, by 2020, the top panel with the bee and the tall arrow were gone. There were only letters for "MOTEL" on one side.

The Barrentine Fish Market & Oyster Bar opened in the mid-1940s. This sign might be from then or maybe the 1950s. [map]
Lake Eufaula
Motor Lodge
Eufaula, AL
Banks & Co. Hardware
Eutaw, AL
The Lake Eufaula Motor Lodge was built in the 1960s and this sign was built then. For more, see this website. [map]

Banks & Co. Hardware was founded in 1889. Evidently, the company closed this location at some point and left these two signs behind. The company is still in business just up the street. I don't know if they moved or operated out of both buildings at the same time. Both of these privilege signs were mass-produced and are probably from the 1950s. [map]
Chat N Chew
Drive-in
Florence, AL
Masonic Lodge
Florence, AL
H.M. Freeman Motors
Gadsden, AL
The Chat N Chew Drive-in sign might be from the 1960s. For more, see this website. [map]

The Masonic Lodge sign in Florence might be the tallest one I have ever seen. [map]

H.M. Freeman Motors is a still operating used car lot. [map]
Buster Miles Ford Chevrolet
Heflin, AL
2007:
2020:
Buster Miles Ford Chevrolet was founded in Anniston, AL in 1947 as Miles Motors and sold used cars. In 1952, Buster Miles bought the Chevrolet/Oldsmobile dealership in Heflin and kept the signs. The dealership moved to a new location in 2008 and this Chevrolet sign was moved inside. The OK Used Cars sign is displayed at the former dealership which now houses the Buster Miles Collision Center. No one at the dealership or body shop knows what became of the Oldsmobile sign. [first photo thanks Tim Ross] [map]
Whirlpool Appliances
Heflin, AL
Plamor Lanes
Huntsville, AL
This vacuum form Whirlpool Appliances sign is probably from the 1960s. The business is long gone. [map]

The Plamor Lanes features a classic giant pin sign over its entrance. [map]
Boot Barn
Mobile, AL
Korbet's Square
Mobile, AL
Hoffman Furniture Co.
Mobile, AL
This boot sign at the Boot Barn is probably not very old. Although, it could be an updated restoration. Does anyone know how long this sign has been here? [map]

Korbet's Square was built on the former site of Korbet's Restaurant which operated from 1949-1995. This sign might have been adapted. [map]

The Hoffman Furniture Co. was established in 1922 and is still in business. This sign might be from the 1950s. For more, see this website. [map]
Blue Bird Hardware
& Seed Store [gone]
Mobile, AL
Taylor
Motel [gone]
Mobile, AL
The Blue Bird Hardware & Seed Store was vacant but this sign was still there when this photo was taken in 2010. It was still there in 2011 but gone by 2013. The original owners have the sign in storage. In 2017, it was announced that the sign would be replicated and installed on the building when after it was renovated. The site would be known as Blue Bird Square. In 2019, the building appeared to be finished but there was still no replica sign.

This photo of the Taylor Motel sign is from 2005. By 2010, the motel had replaced this with a boring, plastic box sign.
The Olsson Motel sign on the left might be from the 1940s. The larger sign is probably from the 1950s. The neon circle with rays piece was added to the larger sign sometime in the 1960s. The top neon ray appears to have broken off. For more, see this website. [map]
Kelly's Cleaners [gone]
Mobile, AL
Port Gibson Cleaners
Mobile, AL
Kelly's Cleaners was established in 1947. This location was built in 1968. The signs were probably from then. The store closed and the signs were removed around 2021. The building has a nice mid-century modern canopy.

I don't know when this Port City Cleaners opened. There are a few other locations in town. It's possible that this location was originally a Kelly's Cleaners and the sign was adapted. If not, perhaps this is a copycat sign. [map]
Smith T Building Supply
Opelika, AL
Candlelight Motel
Ozark, AL
Smith T Building Supply opened here in 1931. This privilege sign for B.L.P. Paint is probably from the 1950s. [map]

The Candlelight Motel sign is probably from the 1950s. For more, see this website. [map]
Pell City Steak House
Pell City, AL
Lozahatchee
Masonic Lodge [gone]
Piedmont, AL
Pine Lake
Motel [gone]
Pike Road, AL
The Pell City Steak House sign is also probably from the 1950s. For more, see this website. [map]

The Lozahatchee Masonic Lodge sign was probably from the 1950s. It was still there in 2018 but gone by 2020.

The Pine Lake Motel opened in 1957 and this sign was probably from then. The sign had been painted various colors over the years. There was probably a Holiday Inn style star projecting from the green post of this sign originally. The sign was removed in 2013. For more, see this website.
Carter Drug Company
Selma, AL
The Carter Drug Company opened in 1924. The original sign had text identifying them as a Walgreen Agency. This sign might be from the 1950s or 1960s. [map]
traffic light sign
Selma, AL
traffic light sign
Sylacauga, AL
2010:
2020:
2010:
2020:
These traffic light signs originally advertised for the Stop-N-Go Self Service Car Wash chain which was established in the 1960s. There was a stop light inside the car wash to indicate when to enter and exit the tunnel. I don't believe there are any surviving locations. The signs revolved and the colored lights changed. Both of these photos are from 2010. The Selma sign was still there in 2017. However, the panels have been missing since at least 2013. [Selma map]; [Sylacauga map]
Byrd Drug Company
Troy, AL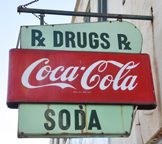 The Byrd Drug Company opened in 1940. This Coca-Cola privilege sign is probably from the 1950s. The Byrd Drug sign is in the neon extension sign section here. [map]
RoadsideArchitecture.com

Copyright. All photos at this website are copyrighted and may only be used with my consent. This includes posting them at Facebook, Pinterest, blogs, other websites, personal use, etc.

Tips & Updates. If you have suggestions about places that I haven't covered, historical info, or updates about places/things that have been remodeled or removed, I'd love to hear from you: roadarch@outlook.com.