(hit "refresh" to get the most recent version of this page; click on photos for larger images)
Kelly's Cleaners
Mobile, AL
Bama Motel
Mobile, AL
Kelly's Cleaners was established in 1947. This location was built in 1968. The store had closed by 2021 and the neon signs were removed. The building is currently vacant. [map]

The Bama Motel has been around since at least the 1950s. This office building appears to be from the 1950s or 1960s. [map]
Isle Dauphine Club
Mobile, AL
The Isle Dauphine Club was designed by Reese Winter and T. Howard Ellis. It was built from 1956-1957. The building now houses Pirate's Bar & Grill Restaurant. For more, see these websites: 1, 2, 3, and 4. [map]
Providence Hospital
Mobile, AL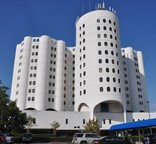 The Providence Hospital was designed by Bertrand Goldberg and built from 1982-1988. The building is very similar to Goldberg's St. Joseph's Hospital from 1970-1975 in Tacoma, WA. [map]
Garrett Coliseum
Montgomery, AL
The Garrett Coliseum was built from 1949-1951. It is located at the Alabama Agricultural Center, home to the Alabama National Fair. For more, see these websites: 1 and 2. [map]
former Mid-West National Insurance Company [gone]
Montgomery, AL

This former Mid-West National Insurance Company was built around 1965. There was originally a globe at the peak of the roof. This building had been vacant since at least 2014. It was demolished by 2021.

There was another example of this building design in Tulsa, OK. There are a couple of other examples of these buildings in Missouri and Bells, TN. If you know of any others, I'd love to hear from you.
former One-Hour Martinizing Cleaners
Montgomery, AL
This former One-Hour Martinizing Cleaners was built in 1964. The building appears to be vacant now. For other examples of this chain, see these in Virginia. [map]
Police Department
Roanoke, AL

This building is in use by the Police Department. It has been nicknamed the "Igloo Jail". It appears to be a longer version of the dome style buildings such as this one in Millers Creek, NC. This building was installed in 2006 but I'll include it here in the mid-century modern section anyway for its futuristic-looking design. There are actually five of these structures, closely spaced next to each other, on this lot. The structure is made of Kevlar-reinforced fiberglass and was produced by Domes International. It can withstand winds speeds of more than 200 miles per hour. [map]
National Guard Armory
Selma, AL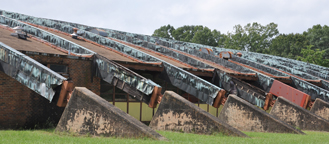 The National Guard Armory was built in 1958. The building now houses the Lions Club. For more, see this website. [map]
Big Springs Monument
Talladega, AL
Municipal Building
Talladega, AL
The Big Springs Monument was designed by Philip W. Kessler and built in 1968 to commemorate Talladega Springs' original water source. [map]

The Municipal Building appears to be from the 1960s or 1970s. [map]
RoadsideArchitecture.com

Copyright. All photos at this website are copyrighted and may only be used with my consent. This includes posting them at Facebook, Pinterest, blogs, other websites, personal use, etc.

Tips & Updates. If you have suggestions about places that I haven't covered, historical info, or updates about places/things that have been remodeled or removed, I'd love to hear from you: roadarch@outlook.com.