(hit "refresh" to get the most recent version of this page; click on photos for larger images)
Donoho School
Anniston, AL

The Donoho School was established in 1963 as the Anniston Academy. This dome was built in 1968 as the school's gym which is now known as Sproull Gymnasium. [map]
Bessemer Electric and Water Service
Bessemer, AL
The Bessemer Electric and Water Service building appears to be from the 1950s or 1960s. [map]
Fire Station #1
Birmingham, AL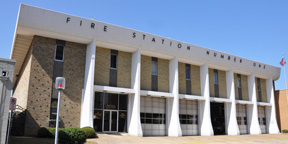 Fire Station #1 moved to this new building in 1971. [map]
Va-Do Fabrics Inc.
Centre, AL

This Va-Do Fabrics Inc. building is probably from the 1960s. [map]
water treatment plant
Cullman, AL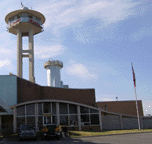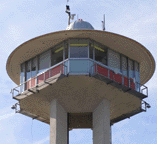 The Cullman water treatment plant was built in 1967. [map]
Chamber of Commerce
Decatur, AL
This Chamber of Commerce appears to be from the 1960s. [map]
former Plaza Pharmacy
Dothan, AL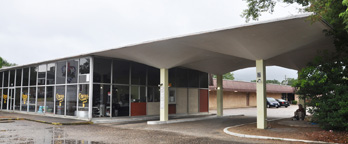 The former Plaza Pharmacy was built in 1961. The building housed the Dakota Coffee Works from 2011-2014. It is currently vacant. [map]
Dothan Civic Center
Dothan, AL
The Dothan Civic Center was built from 1974-1975. The building on the left is known as the Roy Driggers Municipal Building. It is used for city offices. The round arena building is used for events and concerts. [map]
former Florala Memorial Hospital
Florala, AL
The Florala Memorial Hospital was built in 1964. In 2010, it was sold and renamed the Florala Community Hospital. It closed in 2013 and appeared to be vacant when this photo was taken in 2019. [map]
medical offices? [gone]
Gadsden, AL

I believe this complex housed medical offices. It appeared to be vacant when these photos were taken in 2010. By 2014, the buildings had been demolished.
City Hall Complex
Gadsden, AL

This City Hall Complex was built in 1960. [map]
Convention Hall
Gadsden, AL

This Convention Hall was probably built in the 1960s. It is located just south of the City Hall Complex. [map]
RoadsideArchitecture.com

Copyright. All photos at this website are copyrighted and may only be used with my consent. This includes posting them at Facebook, Pinterest, blogs, other websites, personal use, etc.

Tips & Updates. If you have suggestions about places that I haven't covered, historical info, or updates about places/things that have been remodeled or removed, I'd love to hear from you: roadarch@outlook.com.