(hit "refresh" to get the most recent version of this page; click on photos for larger images)
mid-century structure
Talladega, AL
water treatment plant
Cullman, AL
This mid-century structure was built in 1968 to commemorate Talladega Springs' original water source. For more, see this website. [photo thanks Tim Ross] [map]

The Cullman water treatment plant was built in 1967. [map]
Kelly's Cleaners
Mobile, AL
Bama Motel
Mobile, AL
Kelly's Cleaners was established in 1947. This location was built in 1968. It also has a nice neon sign. [map]

The Bama Motel has been around since at least the 1950s. This office building appears to be from the 1950s or 1960s. [map]
Fire Station #1
Birmingham, AL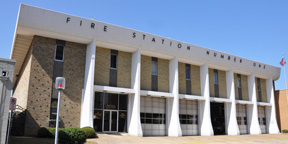 Fire Station #1 moved to this new building in 1971. [map]
Donoho School
Anniston, AL

The Donoho School was established in 1963 as the Anniston Academy. This dome was built in 1968 as the school's gym which is now known as Sproull Gymnasium. [map]
Va-Do Fabrics Inc.
Centre, AL

This Va-Do Fabrics Inc. building is probably from the 1960s. [map]
Chamber of Commerce
Decatur, AL
This Chamber of Commerce appears to be from the 1960s. [map]
Police Department
Roanoke, AL

This building is in use by the Police Department. It has been nicknamed the "Igloo Jail". It appears to be a longer version of the dome style buildings such as this one in Millers Creek, NC. This building was installed in 2006 but I'll include it here in the mid-century modern section anyway for its futuristic-looking design. There are actually five of these structures, closely spaced next to each other, on this lot. The structure is made of Kevlar-reinforced fiberglass and was produced by Domes International. It can withstand winds speeds of more than 200 miles per hour. [map]
medical offices? [gone]
Gadsden, AL

I believe this complex housed medical offices. It appeared to be vacant when these photos were taken in 2010. By 2014, the buildings had been demolished.
City Hall Complex
Gadsden, AL

This City Hall Complex was built in 1960. [map]
Convention Hall
Gadsden, AL

This Convention Hall was probably built in the 1960s. It is located just south of the City Hall Complex. [map]
former Florala Memorial Hospital
Florala, AL
The Florala Memorial Hospital was built in 1964. In 2010, it was sold and renamed the Florala Community Hospital. It closed in 2013 and appeared to be vacant when this photo was taken in 2019. [map]
RoadsideArchitecture.com

Copyright. All photos at this website are copyrighted and may only be used with my consent. This includes posting them at Facebook, Pinterest, blogs, other websites, personal use, etc.

Tips & Updates. If you have suggestions about places that I haven't covered, historical info, or updates about places/things that have been remodeled or removed, I'd love to hear from you: roadarch@outlook.com.