(hit "refresh" to get the most recent version of this page; click on photos for larger images)
former Clyde's Grocery Store
Oklahoma City, OK
Clyde's Grocery Store was designed by Joseph Boaz and built in 1948. The building now houses Brown's Bakery. For more, see this website. [map]
former Truckers Village
Oklahoma City, OK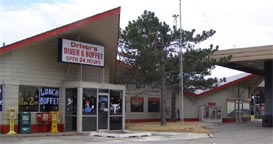 Truckers Village was built in 1963 and at the time was advertised as the largest truck stop in the world. It consisted of two identical peak-roofed buildings with a connecting breezeway. The Golden Lion Restaurant occupied one building while a Derby gas station occupied the other one. The canopy in front of the buildings was added much later. In recent years, the restaurant housed Driver's Diner and C.C.'s Diner (top photo from 2006). The buildings were then vacant for several years. Since 2010, Stone & Stucco Co. has occupied the building. The bottom two rows of photos are from 2011. [map]
Quick's Drive-in (now Neptune Submarine Sandwiches)
Oklahoma City, OK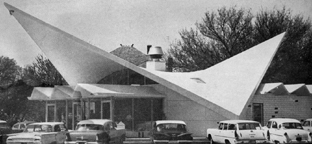 Quick's Drive-in was built in 1961. The building was designed by Jack L. Scott. It features a concrete, hyperbolic paraboloid roof. Quick's closed around 1973. The building has been home to Neptune Submarine Sandwiches since then. There was another Quick's location in Oklahoma City that is gone now. [1965 scanned photo thanks Robby Delius] [map]
Coley Properties
Oklahoma City, OK

2011:

2021:
The Coley Properties building was in 1959 as the Coley House. It was designed by R. Duane Conner as one of Living for Young Homemakers' "Living" homes. In 2015, the shrubs in front of the building had been removed and the screen was painted black. For more, see this website. [map]
former medical complex
Oklahoma City, OK
This former medical complex appears to be from the 1960s. There was a pharmacy in the part of the building closest to the main road. [map]
Edwards Park Pavilion
Oklahoma City, OK
The Edwards Park Pavilion was built in the early 1960s. [map]
Jerry's Donuts (now Paulie's Donuts)
Pryor, OK

2011:
Jerry's Donuts has been here since 1987 when it was known as Larry and Jerry's Donuts. It was previously a Daylight Donuts. The building has housed Paulie's Donuts since 2018. This building is probably from the 1960s. Does anyone know what business was here originally? Most likely, it had a parabolic roof originally like the one at Quick's Drive-in, shown directly below. [map]
Roto-Rooter
Tulsa, OK
2011:
2019:
This Roto-Rooter building was built around 1961 for the Pancake Place restaurant. The building housed other restaurants including the Razor Clam, C.J.'s Restaurant, Daddy's Country Cafe, and at least one Mexican restaurant. Roto-Rooter had been there since 1979. The building had been vacant since 2015. Since 2018, the building has housed the Therapeutic Hemp Center. [map]
former Carpet City [gone]
Tulsa, OK
The Carpet City building and sign are probably from the 1950s or 1960s. The building was vacant when these photos were taken in 2011. The building has since been significantly remodeled. The canopy and sign were removed.
former Music Sound World [gone]
Tulsa, OK
2006:
2011:
The Music Sound World building was originally a Mid-West National Insurance Company office, most likely from the 1960s. The roof was previously yellow and the globe on top revolved. Music Sound World occupied the building from around 1978-2009. The globe was removed by 2011. The building was still vacant in 2018. By 2019, it had been demolished. There was another building like this one in town but the cone-shaped roof and sign were removed. There are a few other examples of these buildings in Missouri, Bells, TN, and Montgomery, AL.
office building
Tulsa, OK

This office building houses Advanced Inspection Technologies. It appears to be from the 1960s. [map]
RoadsideArchitecture.com

Copyright. All photos at this website are copyrighted and may only be used with my consent. This includes posting them at Facebook, Pinterest, blogs, other websites, personal use, etc.

Tips & Updates. If you have suggestions about places that I haven't covered, historical info, or updates about places/things that have been remodeled or removed, I'd love to hear from you: roadarch@outlook.com.