(hit "refresh" to get the most recent version of this page; click on photos for larger images)
Ray Ward Jewelers
Ardmore, OK
Atoka County Courthouse
Atoka, OK
Ray Ward Jewelers opened in this building around 1997. They moved to a new location and this building was vacant in 2020. The building is from the early 1900s but this remodel appears to be from around the 1960s. [map]

The Atoka County Courthouse was designed by Monroe Parker and built in 1963. [map]
Daily Grind Sandwich Express
Bartlesville, OK
Play Tower
Bartlesville, OK
The Daily Grind Sandwich Express building appears to be from the 1960s. My guess would be that this was originally a gas station office. This photo is from 2011. By 2016, the building was housing Maria's Tacos. By 2019, the building was housing El Corral. [map]

The Play Tower was designed by Bruce Goff and built in 1964. It is located in Sooner Park and was built for children to play on. It has been closed to the public since the 1990s when it was deemed unsafe. The five-story tall structure is sometimes referred to as the Space Rocket. These photos are from 2011. The Play Tower was restored in 2014. For more, see these websites: 1, 2, and 3. [map]
Bartlesville Community Center
Bartlesville, OK

The Bartlesville Community Center was designed by William Wesley Peters and built from 1979-1982. A little late to be mid-century but I'll include it anyway. The building functions primarily as a performing arts center. [map]
Glamour Salon
Blackwell, OK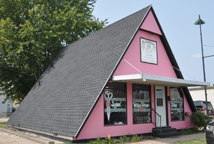 The Glamour Salon A-frame building was built in 1972. I don't know what business was here originally. [map]
Glancy Motor Hotel
Clinton, OK

2011:
The Glancy Motor Hotel was built in 1939. This sign and building appear are from 1950. In 2019, the motel was condemned. In 2021, plans were announced to restore it. For more, see these websites: 1 and 2. [map]
Enid Public Library
Enid, OK
The Enid Public Library was designed by Smith-Day & Associates and built in 1964. [map]
Dewart-Gumerson Insurance Agency
Guthrie, OK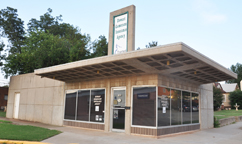 The Dewart-Gumerson Insurance Agency building was probably built in the 1950s or 1960s. I think it may have housed a drug store originally. [map]
Oklahoma Grand Lodge
Guthrie, OK
The Oklahoma Grand Lodge was designed by Dow Gumerson and built in 1956. [map]
RoadsideArchitecture.com

Copyright. All photos at this website are copyrighted and may only be used with my consent. This includes posting them at Facebook, Pinterest, blogs, other websites, personal use, etc.

Tips & Updates. If you have suggestions about places that I haven't covered, historical info, or updates about places/things that have been remodeled or removed, I'd love to hear from you: roadarch@outlook.com.