(hit "refresh" to get the most recent version of this page; click on photos for larger images)
First Christian Church
Del City, OK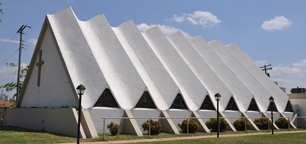 The First Christian Church was designed by R. Duane Conner and built in 1956. For more, see these websites: 1 and 2. [map]
First Lutheran Church
Ada, OK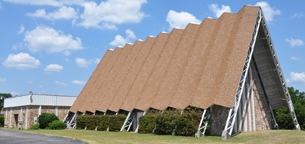 The First Lutheran Church was designed by William Henry Ryan. I assume that it was built in the late 1950s or 1960s. [map]
First Presbyterian Church
Muskogee, OK
2011:
2019:
This First Presbyterian Church was designed by John B. Walton and Byron Salsman. It was built in 1969. By 2015, the cross and sign had been removed from the building. I believe the building now houses the Antioch Church of Muskogee. [map]
First Presbyterian Church
Tahlequah, OK

This First Presbyterian Church was designed by R. Duane Conner and built in 1963. [map]
Bethany First Church of the Nazarene
Bethany, OK
The Bethany First Church of the Nazarene was designed in 1966 and completed in 1969. [map]
Federated Church
Kingfisher, OK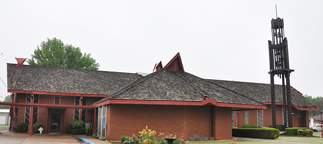 The Federated Church was built in 1953. For more, see these websites: 1 and 2. [map]
Hopewell Baptist Church
Edmond, OK

2011 and 2012:
The Hopewell Baptist Church, aka the Church of Edmond, resembles a concrete teepee. It was designed by Bruce Goff in 1948 and completed in 1951. The church was built by oil field and construction workers using steel tubing from oil field sites. The building has been vacant since 1989 and was nearly demolished. It is listed on the National Register of Historic Places. The Hopewell Heritage Foundation is raising money for the building's restoration. In 2013, a new roof was installed. The interior is now being restored. The building will house the Deer Creek Event Center. For more, see this website. [map]
RoadsideArchitecture.com

Copyright. All photos at this website are copyrighted and may only be used with my consent. This includes posting them at Facebook, Pinterest, blogs, other websites, personal use, etc.

Tips & Updates. If you have suggestions about places that I haven't covered, historical info, or updates about places/things that have been remodeled or removed, I'd love to hear from you: roadarch@outlook.com.