(hit "refresh" to get the most recent version of this page; click on photos for larger images)
Beaver County Free Fair Association Exhibition Building
Beaver, OK

The Beaver County Free Fair Association Exhibition Building was designed by Tommy Jay Shaw and built in 1960. For more, see this website. [map]
shelter
Checotah, OK
This shelter is located at the Lake Eufaula State Park. There were about three of them but I believe this is the only one left. I assume they were built in the 1960s. [map]
Lake Eufaula State Park Visitor Center
Checotah, OK
The Lake Eufaula State Park Visitor Center appears to be from the 1950s or 1960s. However, the only information that I can find about it seems to indicate it wasn't built until the late 1980s or early 1990s. [map]
former Truckers Village
Oklahoma City, OK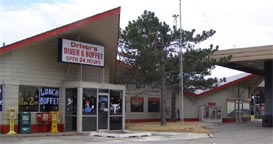 Truckers Village was built in 1963 and at the time was advertised as the the largest truck stop in the world. It consisted of two identical peak-roofed buildings with a connecting breezeway. The Golden Lion Restaurant occupied one building while a Derby gas station occupied the other one. The canopy in front of the buildings was added much later. In recent years, the restaurant housed Driver's Diner and C.C.'s Diner (top photo from 2006). The buildings were then vacant for several years. Since 2010, Stone & Stucco Co. has occupied the building. The bottom two rows of photos are from 2011. [map]
Jerry's Donuts (now Paulie's Donuts)
Pryor, OK

2011:
Jerry's Donuts has been here since 1987 when it was known as Larry and Jerry's Donuts. It was previously a Daylight Donuts. The building has housed Paulie's Donuts since 2018. This building is probably from the 1960s. Does anyone know what business was here originally? Most likely, it had a parabolic roof originally like the one at Quick's Drive-in, shown directly below. [map]
Quick's Drive-in (now Neptune Submarine Sandwiches)
Oklahoma City, OK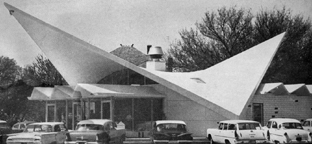 Quick's Drive-in was built in 1961. The building was designed by Jack L. Scott. It features a concrete, hyperbolic paraboloid roof. Quick's closed around 1973. The building has been home to Neptune Submarine Sandwiches since then. There was another Quick's location in Oklahoma City that is gone now. [1965 scanned photo thanks Robby Delius] [map]
RoadsideArchitecture.com

Copyright. All photos at this website are copyrighted and may only be used with my consent. This includes posting them at Facebook, Pinterest, blogs, other websites, personal use, etc.

Tips & Updates. If you have suggestions about places that I haven't covered, historical info, or updates about places/things that have been remodeled or removed, I'd love to hear from you: roadarch@outlook.com.