(hit "refresh" to get the most recent version of this page; click on photos for larger images)
First National Bank
Elk City, OK
This First National Bank was built in 1903. It was remodeled in the early 1950s. It appears to have been remodeled again in the 1960s or 1970s. [map]
former Nigh Savings
Enid, OK
Nigh Savings occupied this round building from at least 1960 until 1973. I don't know what the building next store housed with the bowling pin-like columns but it was probably built around the same time. Does anyone know more about it? [map]
Security National Bank
Enid, OK
This Security National Bank branch was designed by Dura A. Smith of Smith-Day and built in 1962. The building is listed on the National Register of Historic Places. [map]
Security National Bank
Enid, OK
This Security National Bank motor bank was built around 1970. [map]
Stride Bank
Enid, OK

This Stride Bank was built in 1962 and originally housed a Central National Bank & Trust. [map]
City National Bank and Trust
Guymon, OK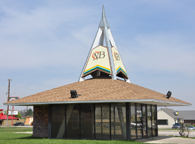 This City National Bank and Trust ATM building had a stylized teepee. My guess is that it's from the 1960s or 1970s. Around 2018, the ATM had closed and the teepee was removed from the roof. [map]
First National Bank
McAlester, OK
This First National Bank motor bank branch appears to be from the 1960s. In 2014, this brand new, vintage-style sign was installed. [map]
RCB Bank
Ponca City, OK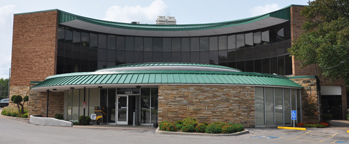 This RCB Bank appears to be from the 1950s or 1960s. It was previously a Pioneer Bank & Trust but I don't know the original occupant. [map]
MidFirst Bank
Shawnee, OK
This MidFirst Bank branch was built in 1963 as a First Federal Savings & Loan. The building was vacant in 2018. [map]
Stillwater National Bank & Trust Company
Stillwater, OK

2011:
2019:
This Stillwater National Bank & Trust Company branch was built in 1967. It features an underground garage. By 2015, the original sign had been replaced with a new one for the new occupant, Simmons Bank. For more, see this website. [map]
YNB Bank
Yukon, OK

YNB Bank was founded as Yukon National Bank in 1912. This drive-thru building appears to be from the 1950s or 1960s. It is located next to the Elm St. branch. [map]
RoadsideArchitecture.com

Copyright. All photos at this website are copyrighted and may only be used with my consent. This includes posting them at Facebook, Pinterest, blogs, other websites, personal use, etc.

Tips & Updates. If you have suggestions about places that I haven't covered, historical info, or updates about places/things that have been remodeled or removed, I'd love to hear from you: roadarch@outlook.com.